Photo Flash: Haven Theatre's DIRECTORS HAVEN 2017 - Through November 1, 2017 At The Den Theatre
Haven Theatre will present its third DIRECTORS HAVEN, the company''s ever-growing initiative showcasing the talents of three early career directors. This season, Kristen Johnson directs Vaclav Havel''s riveting political satire THE PROTEST, Ian Martin helms Amiri Baraka''s THE TOILET, a powerful look at love and empathy, and Lexi Saunders directs Rachel Dubose''s sharply funny and biting new play THE DEPARTURE. The three fully-produced productions will run back-to-back in one program. DIRECTOR''S HAVEN 2017 will play October 16 - November 1, 2017 at Haven Theatre''s resident home, The Den Theatre (2A), 1333 N. Milwaukee Ave. in Chicago''s Wicker Park neighborhood. All performances are pay-what-you-can. Tickets are currently available at haventheatrechicago.com.
DIRECTORS HAVEN 2017 will feature Nic Bell, Tara Bouldry, BriAnna Buckley, Nate Buursma, Byron Coolie, Kamille Dawkins, Leon J. Evans, Barry Irving, Julian Larach, Freedom Martin, Priya Mohanty, Marcus D. Moore, Victor Musoni, Selene Perez, Noah Robinson, Jo Schaffer and Kendra Thulin
Comments Artistic Director Josh Sobel, "The continued growth of the Director's Haven program is a fulfillment of one of my greatest hopes - to provide institutional support and hands-on production opportunity for directors at the very earliest stages of their professional journeys. The past two years have been a testament to the talent and imagination of the newest generation of professional theatermakers, and this season's cohort of artists will only build upon and continue this momentum. These directors have selected pieces that are truly uniquely personal to each of them, and share an immediacy, a relevancy and a consciousness that serves to reinforce my faith in the next wave of artistic leaders."
DIRECTORS HAVEN 2017 includes:
THE PROTEST
By Vaclav Havel
Directed by Kristen Johnson
Featuring Kamille Dawkins (Vanek) and Kendra Thulin (Stanek).
Renowned activist Van?k pays a visit to the lavish home of a former colleague, Stan?k, who has invited Van?k to help secure the release of a jailed radical musician, fiancée to Stan?k''s daughter. Van?k also has a favor to request: getting the Stan?k''s signature in a far-reaching protest.
THE TOILET
By Amiri Baraka
Directed by Ian Martin
Featuring Nic Bell (Skippy), Nate Buursma (Donald), Byron Coolie (Ora), Leon J. Evans (Foot), Barry Irving (Knowles), Julian Larach (Karolis), Freedom Martin (Willie Love), Marcus D. Moore (Hines), Victor Musoni (Johnny Boy Holmes), Noah Robinson (George) and Jo Schaffer (Perry).
Set in a high school lavatory in the early 1960''s, LeRoi Jones'' The Toilet is an exploration of love, race and masculinity. The play is one of several known colloquially as Revolutionary theatre, which aimed to force change in the social order by exposing, accusing, and attacking. The Toilet exposes love, accuses race, and attacks masculinity, in hopes that we can imagine a new social order; One in which a boy could love another, despite their colors.
THE DEPARTURE
By Rachel Dubose
Directed by Lexi Saunders
Featuring Tara Bouldry (Trish), BriAnna Buckley (Karyn), Priya Mohanty (Aleesia) and Selene Perez (Micah).
Friendships are tested when a group of women reunites for an Escape Room themed Bachelorette Party. Loosely based on Sartre's No Exit and developed collaboratively, what was supposed to bring the women together actually begins to tear them apart. As the clock winds down, tensions build and old secrets are revealed.
The production team for DIRECTOR''S HAVEN 2017 includes Rachel Rauscher (scenic design), Sara Torres (lighting design), Antonio Gracias (sound design), Amy Williams (costume design), Corbin Paulino, Cedar Larson and Merle Palmer (stage managers) and Marika Mashburn (casting director).
PRODUCTION DETAILS:

Title: DIRECTOR''S HAVEN 2017
Location: The Den Theatre (2A), 1333 N. Milwaukee Ave., Chicago
Previews: Monday, October 16 at 7:30 pm and Tuesday, October 17 at 6 pm
Regular Run: Wednesday, October 18 - Wednesday, November 1, 2017
Curtain Times: Sundays at 6 pm, Mondays, Tuesdays and Wednesday at 7:30 pm
Tickets: Pay-what-you-can. Tickets are currently available at haventheatrechicago.com.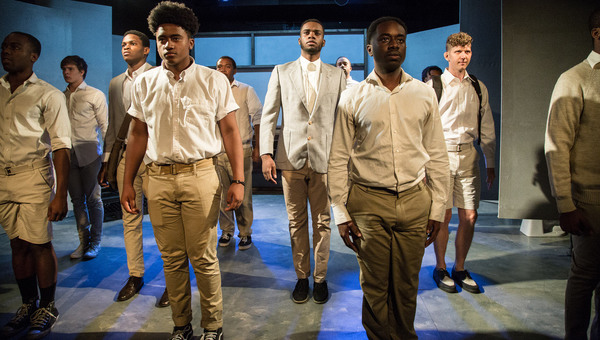 Leon Evans, Julian Larach, Freedom Martin, Victor Musoni, Marcus D. Moore, Noah Robinson, Barry Irving, Byron Coolie and Nate Buursma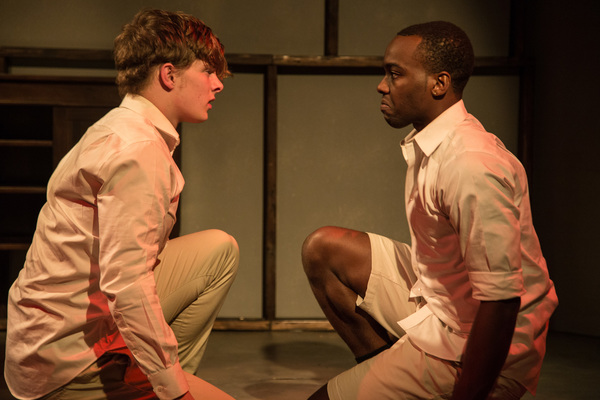 Julian Larach and Leon Evans in THE TOILET by Amiri Baraka, directed by Ian Martin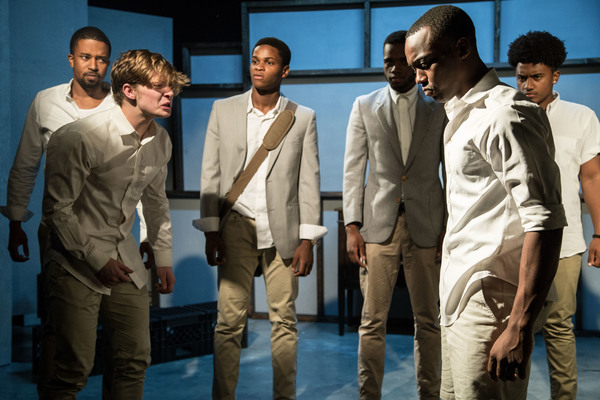 Barry Irving, Julian Larach, Freedom Martin, Noah Robinson, Leon Evans and Victor Musoni

Kamille Dawkins and Kendra Thulin in THE PROTEST by Vaclav Havel, directed by Kristen Johnson

Kamille Dawkins and Kendra Thulin in THE PROTEST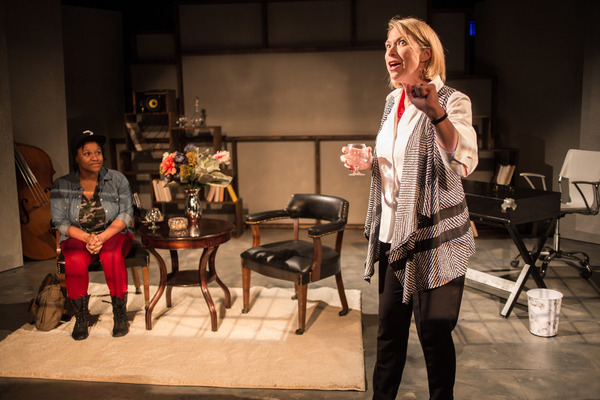 Kamille Dawkins and Kendra Thulin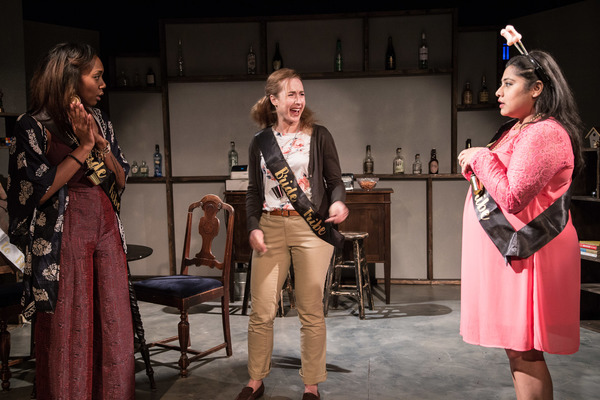 BriAnna Buckley, Tara Bouldrey and Priya Mohanty in THE DEPARTURE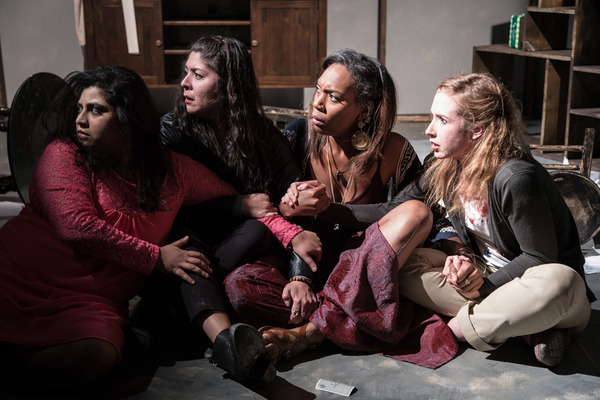 Priya Mohanty, Selene Perez, BriAnna Buckley and Tara Bouldry in THE DEPARTURE by Rachel Dubose, directed by Lexi Saunders

Priya Mohanty, Tara Bouldry, Selene Perez and BriAnna Buckley in THE DEPARTURE by Rachel Dubose