Photo Flash: Barrel of Monkeys New Revue CHICAGO'S WEIRD, GRANDMA - Oct. 28-Dec. 2, 2013 at The Neo-Futurist Theater
Just when you thought Monday nights couldn''t get any better, Barrel of Monkeys is partnering with some of Chicago''s best performing arts companies and artists for the second iteration of CHICAGO''S WEIRD, GRANDMA, directed by Artistic Director Molly Brennan, playing Mondays at 8 pm from October 28 - December 2, 2013 at the Neo-Futurist Theater, 5153 N. Ashland Ave. in Chicago. Each guest artist or company will bring their unique talents to transform stories written by Chicago Public School students into entertaining sketches incorporating puppetry, sketch comedy, clowning, music, dance and other disciplines. The press performance is Monday, October 28 at 8 pm.
This year''s guest line-up includes: About Face Theatre, Bailiwick Chicago Theater, Jessica Hudson, The Hypocrites, Jyldo, Manual Cinema, The Neo-Futurists and Noah Ginex Puppet Company. Each guest artist or company will choose from original stories from Barrel of Monkeys'' in-school residencies and adapt them into unique performances. Barrel of Monkeys ensemble members will round out each performance with a rotating line-up of sketches from their long-running revue, THAT''S WEIRD, GRANDMA. The weekly collection of short sketches is equally entertaining for both adults and children. The line-up changes each week by audience vote - so no two shows are ever the same. For tickets, reservations and information visit www.barrelofmonkeys.org or call (312) 409-1954.
Barrel of Monkeys, a Chicago-based arts education theater ensemble now in its 16th season, conducts creative writing workshops with 3rd through 5th grade students in underserved Chicago Public Schools. The ensemble of actor-educators then turns their stories and words into professionally-performed theater, presented both in-school and for the general public through its revues. Barrel of Monkeys annually performs more than 300 student-written stories for the students in their schools and 175 stories on the stage for the general public.
The complete schedule of guest artists and companies for CHICAGO''S WEIRD, GRANDMA:
Monday, October 28 - Manual Cinema
Monday, November 4 - Jessica Hudson
Monday, November 11 - The Neo-Futurists and Bailiwick Chicago Theater
Monday, November 18 - Jyldo
Monday, November 25 - The Hypocrites
Monday, December 2 - About Face Theatre and Noah Ginex Puppet Company
Tickets: $12 for adults; $6 for children under 12. Tickets are available at www.barrelofmonkeys.org or by calling (312) 409-1954.

The cast of Barrel of Monkeys†revue CHICAGOâ€S WEIRD, GRANDMA. Photo by Beth Bullock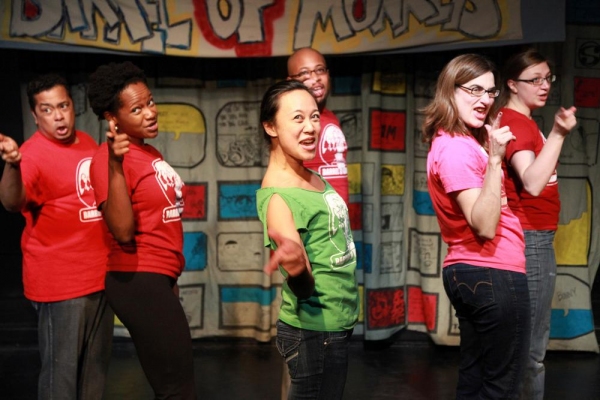 Linsey Falls, Eunice Woods, Emjoy Gavino, Erick Deshaun Dorris, Laura McKenzie and Lindsey Dorcus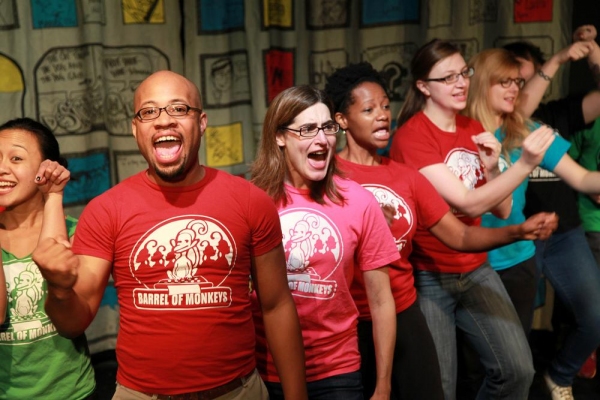 Emjoy Gavino, Erick Deshaun Dorris, Laura McKenzie, Eunice Woods, Lindsey Dorcus, Rachel Wilson and Gwen Tulinin

The cast of Barrel of Monkeys†revue CHICAGOâ€S WEIRD, GRANDMA