Photo Flash: BORDELLO Celebrates Opening Night
Chicago Dramatists, 1105 W. Chicago Avenue, presents the World Premiere of Bordello, a Susan Smith Blackburn Prize nominee, by Resident Playwright Aline Lathrop. Bordello will run through March 6, 2011. Northlight Theatre Literary Manager and Chicago Dramatists Associate Artist Meghan Beals McCarthy will direct.
Sixty miles outside Las Vegas today, sex is for sale in state licensed bordellos, where almost any fantasy can be accommodated for the right price. Set on "Customer Appreciation Night", Bordello shines a light on the working girls, their dreams and ambitions, and everything that gets in the way. A provocative peek behind the scenes of a controversial industry, Bordello inherently speaks to the correlation between sex and violence, touches on human rights issues, and exposes the raw truths of sex work. Bordello is a vivid portrait of the women who work behind the walls of a legal brothel, their relationships to each other, and the role of choice in their lives.
Chicago Dramatists
Resident Playwright Aline Lathrop is the recipient of numerous awards, including an Illinois
Arts Council
fellowship and a Dr. Donahue Tremaine grant. The critically acclaimed world premiere production of Feast at
Chicago Dramatists
was cited as one of the "Top 5 Best New Plays" of the year by New City Magazine, and the play won first prize in the Centre Stage - South Carolina New Plays Festival. A Piece of Bone received its Jeff-recommended world premiere at Circle Theatre of Forest Park. And Eat It Too has been developed at American Theatre Company,
Chicago Dramatists
, and Stage Left Theatre Company, and was a finalist for the First Flight Festival, Finding Voice Award, the L
Ark Theatre Company
's Playwrights' Week, and the Ashland New Plays Festival, as well as a semi-finalist for the Playwrights First Award and the Princess Grace Award. Never Farewell has been developed at
Chicago Dramatists
, Circle Theater of Forest Park, and the Women at the Door Festival (where it was presented in a staged reading at Victory Gardens), and was a finalist for the
Julie Harris
Award. Lathrop has also developed plays at Abingdon Theatre Company, Boarshead Theatre, Famous Door Theatre Company, and the Chicago Cultural Center, among others. Lathrop is a graduate of the
Northwestern University
Theatre Department and a member of the
Dramatists Guild
. Director Meghan Beals McCarthy is an Associate Artist at Chicago Dramtists and has directed readings, workshops and productions with numerous Chicago companies, including
Northlight Theatre
, Steppenwolf, Goodman, Pavement Group, Theatre Seven, Stage Left,
Chicago Dramatists
and Caffeine Theatre, for whom she most recently directed Madeleine Olnek's Wild Nights with Emily. McCarthy is the Interim Artistic Director of Caffeine Theatre and an Associate Artist at
Chicago Dramatists
. Past positions held include Literary Manager at
Northlight Theatre
, Program Assistant for Steppenwolf's First Look Repertory, and Artistic Associate with The
Pearl Theatre Company
in New York.Bordello features an all female cast and crew. The production stars Dana Black as Mandy,
Melissa Canciller
as Lotus, Joanne Dubach as Kitten, Ariana Dziedzic as Michelle,
Chicago Dramatists
Associate Artist Marguerite Hammersley as Honey, Katherine Keberlein as Jewel, and Kyra Morris as Godiva.Bordello also features Set Design by Mariana Csaszar, Costume Design by
Christine Pascual
, Sound Design/Composition by Victoria Delorio, and Props Design and Stage Management by
Jenniffer Thusing
. Tara Branham serves as the Assistant Director and Emily Duffin is the Production Manager.
Chicago Dramatists
Resident Lighting Designer
Jeff Pines
is the only man involved in the project. Developed in part through readings and workshops at
Chicago Dramatists
, the 2010-2011 productions were chosen from hundreds of plays-in-progress to be a part of the season.
Chicago Dramatists
will next bring the 2009
Wendy Wasserstein
Prize-winning play Hickorydickory by Resident Playwright
Marisa Wegrzyn
, directed by
Chicago Dramatists
' Artistic Director
Russ Tutterow
, to its stage to culminate the season in Spring 2011. About
Chicago Dramatists
In the fall of 1979, four playwrights came together to hear their work read aloud and to hone their craft. Today,
Chicago Dramatists
' amazing record of achievement has landed them an invaluable place in the artistic community as a vital source of inspiration to 40 resident playwrights, 160 associate playwrights, 60 associate artists, and thousands of audience members. Over the past three decades,
Chicago Dramatists
has worked with over a thousand playwrights, produced and developed thousands of plays, and stayed true to its mission to nurture compelling, challenging and diverse plays that move on to productions, earn awards, and define the American theatre. Each season
Chicago Dramatists
presents three world premiere productions and the signature Saturday Series, weekly staged readings of plays in progress. The theatre also conducts educational outreach to at-risk students at Chicago Public Schools, awakening the possibility of self-expression by writing for the theatre. Through passionate dedication, personal nurture and careful exposure,
Chicago Dramatists
carries on its mission of developing new plays and playwrights for the next generation of theatre.
Chicago Dramatists
is located just minutes from the Loop at 1105 W. Chicago Avenue, at the 24-hour Chicago Avenue stop of the Blue Line subway, and is just off the Ogden and Augusta exits of the Kennedy Expressway. Performances are Thursday through Saturday at 8 p.m., and Sundays at 3 p.m.; Individual ticket prices are $32, and student tickets are offered for all Thursday performances at $15. There is street parking available. For more information visit www.chicagodramatists.org.


Ariana Dziedzic, Melissa Canciller, Joanne Dubach, Katherine Keberlein, Marguerite Hammersley, and Kyra Morris

Janet Shanahan with husband and Chicago Dramatists Board President, Neill Shanahan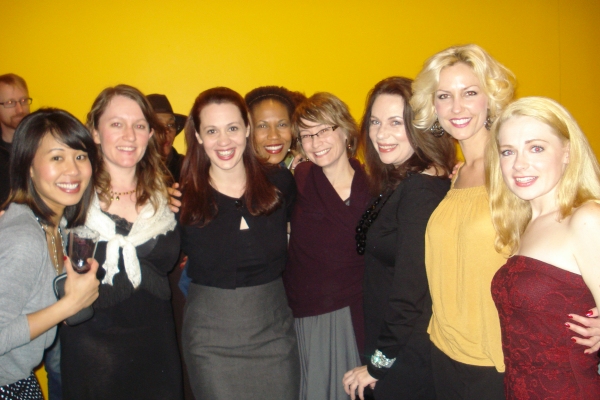 Melissa Canciller, Bordello Playwright Aline Lathrop, Dana Black, Kyra Morris, Bordello Director Meghan Beals McCarthy, Marguerite Hammersley, Katherine Keberlein and Joanne Dubach

Russ Tutterow, Matthew McGrane and Sarah Kuchar

Matthew McGrane and Sarah Kuchar