Click Here for More Articles on DEAR EVAN HANSEN
DEAR EVAN HANSEN Will Hold Open Casting Call in Chicago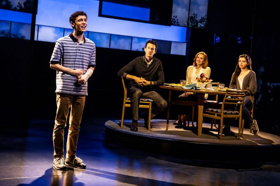 Dear Evan Hansen will hold an open casting call in Chicago! It will be held Thursday, March 7 at AEA Audition Center, 557 West Randolph Street, Chicago, IL 60661.
Sign in is from 9:00am - 12:00pm, and the call will be held from 10:00am - 5:00pm.
The call is seeking actors age 17 and up for the following roles:
Evan Hansen: Vocal: Pop Tenor G2-B4 (Bottom G to top B) 17 years old. Smart, sincere and excruciatingly self-conscious, Evan prefers to hover in the background, a supporting player in his own life, too afraid to step forward into the spotlight and risk ridicule or, what might be worse, no one noticing him at all.
Connor Murphy: Vocal: Pop Bari/Tenor G2-G4 (Bottom G to Top G) 17 years old. An angry, disaffected loner, Connor has been a troubled kid for as long as anyone can remember, an enigma and a source of endless consternation to his long-suffering parents.
Zoe Murphy: Vocal: Pop Soprano F3-E5 (Bottom F to E two above middle C) 16 years old. Sensitive and sophisticated, with a sharp sense of humor, Zoe could care less about the status games and popularity rites of high school. She feels a terrible ambivalence over her brother's death.
Jared Kleinman: Vocal: Pop Tenor A2-B4 (Bottom A to top B) 17 years old. Droll and sarcastic, Jared covers his own insecurities with a well-practiced swagger and a know-it-all arrogance.
Alana Beck: Vocal: Pop Soprano F3-E5 (Bottom F to E two above middle C) 17 years old. Earnest to a fault, prone to melodrama, Alana hides a deeper loneliness beneath an ever-present smile and an almost aggressive friendliness.
If you are interested in attending, prepare 6 bars of a pop/rock or contemporary musical theatre song, and bring a picture and résumé. Accompanist will be provided.
If you are not able to attend this call, you are able to submit via the show website: https://dearevanhansen.com/auditions-submission/.
Related Articles
More Hot Stories For You