Chimera Ensemble Hosts the Chicago Premiere of HOW TO LIVE ON EARTH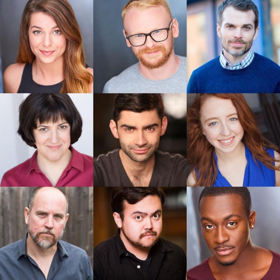 Chimera Ensemble presents the Chicago Premiere of How to Live on Earth, written by award-winning playwright MJ Kaufman, and directed by Gwendolyn Wiegold. The production will go up March 8-24 in The Pentagon Theater at Collaboraction Studios in The Flat Iron Arts Building, 1579 N. Milwaukee Ave., Chicago IL 60622. There will be one preview performance on Friday, March 8 at 7:30 pm. Opening night, followed by a reception, will be Saturday, March 9 at 7:30 pm.
How to Live on Earth tells the stories of Omar, Eleanor, Aggie, and Bill, applicants to become the first colonists of the planet Mars. The mission, should they be chosen to embark on it, would be one-way, with no possible return to Earth. As the applicants compete for the few spots available, they are forced to reckon with the cost of their dream, especially for the lovers and family they would be leaving behind.
At a time when environmental and political catastrophe looms large, and our technological capabilities grow stronger and stronger, How to Live on Earthasks us what it really means to go and what it means to stay. Literary Manager
Vered Hankin
brought How to Live on Earth to Chimera Ensemble's attention after Artistic Director Katlynn Yost, a fan of
MJ Kaufman
's Sagittarius Ponderossa, expressed interest in considering more scripts by the playwright for potential production. Director Gwendolyn Wiegold says, "Our ensemble loved How to Live on Earth. I was attracted to the play's poignancy, how it tackles the difficulty of life as a human being in relation to other human beings in an increasingly complex and often terrifying world, its relevance to current events (hurrah for the InSight landing!), and how to it engages with the concept of expansion and challenges us to take a critical look at our dreams and why we have them."
MJ Kaufman
(Playwright)
MJ Kaufman
is a playwright and devised theater artist. Their work has been produced and developed by
The Public Theater
, New York Theatre Workshop, the New Museum, WP Theater, Clubbed Thumb, New Georges, Page73,
Colt Coeur
, Yale School of Drama, Lark Play Development Center, InterAct Theater, Huntington Theater, and performed in Russian in Moscow. MJ's awards include the 2013 ASCAP
Cole Porter
Prize in Playwriting, the 2013 Global Age Project Prize, and the 2010
Jane Chambers
Prize in Feminist Theatre. MJ is a resident playwright at
New Dramatists
and currently a staff writer on Netflix's The Chilling Adventures of Sabrina. Originally from Portland, Oregon, MJ attended Wesleyan University and received their MFA in playwriting from Yale School of Drama. MJ also recently founded a fellowship for trans theater artists. Gwendolyn Wiegold (Director) is a Chicago-based director and producer. She has had the pleasure of working with Chicago companies including Court Theatre, Chicago Children's Theatre, and Chimera Ensemble, where she also serves as Managing Director, and has assistant directed productions with directors including
Seret Scott
,
Sean Graney
,
Scott Westerman
, and Charlie Newell. She originally hails from New York City and has her BA in Theatre and Performance Studies from the University of Chicago, where her directing credits include As You Like It, Cowboy Mouth, and The Seagull. Most recently, Gwendolyn's directing was seen in The 9th Annual Chicago One-Minute Play Festival. She is a recipient of the Francis X. Kinahan Memorial Prize. The cast of How to Live on Earth includes Brian Sheridan as Bill (The Defamation Experience, Canamac Productions), Stacey Lind as Carol (Arcadia, Resident Theatre at Edge of the Wood),
Siddhartha Rajan
as Don (Great Expectations, Silk Road Rising), Maureen Davies as Aggie (The Joan Show, Chimera Ensemble), Bob Webb as Robert (Zoo Story, Limelight Productions), Arif Yampolsky as Omar (A Widow of No Importance, Rasaka Theatre), Jermaine Robinson as Rick (Hairspray, Windy City Music Theatre), Graham Carlson as Russ (She Kills Monsters, Cuckoo's Theater Project), and Katlynn Yost as Eleanor (Sister Cities, Chimera Ensemble; Artistic Director of Chimera Ensemble). The production team for How to Live on Earth includes Devonte E. Washington (Stage Manager),
David Goodman
-Edberg (Lighting Designer), Steve Labedz (Sound Designer), Jacob Mulcahy (Technical Director), and R&D Choreography (Violence and Intimacy Designers). Chimera's Leadership team includes Katlynn Yost (Artistic Director), Maureen Davies (Associate Artistic Director), Gwendolyn Wiegold (Managing Director), Brian Sheridan (Finance Director), and
Vered Hankin
(Literary Manager).
For additional information and to purchase tickets, visit http://www.chimeraensemble.com/
Image: Top row: Katlynn Yost, Graham Carlson, Brian Sheridan.
Middle row: Stacey Lind, Siddhartha Rajan, Maureen Davies.
Bottom row: Bob Webb, Arif Yampolsky, Jermaine Robinson.