Review: THE ANTELOPE PARTY at Theater Wit
Eric John Meyer's world premiere play THE ANTELOPE PARTY opens on a meeting in an apartment setting notable for its vast and bright collection of MY LITTLE PONY memorabilia (kudos to set designer Joe Schermoly and properties designer Jesse Gaffney for this delightful visual). In this moment, we meet the members of the Rust Belt Brony Meet Up group. The bronies (sometimes referred to as Pegasisters when they're female-identifying) are adult fans of the children's show MY LITTLE PONY. The members of the Rust Belt group, in particular, identify with the show's messages of magic and friendship and find solace among their brony counterparts.
The play introduces us to the meeting's host Ben (Edward Mawere), who laments that he cannot wear his MY LITTLE PONY outfit in public. We also meet Shawn (Will Allan), who is dressed head-to-toe in a spectacular Pinkie Pie costume that's a stunning burst of hot pink (magnificent costume work by Karen Krolak). The play also introduces us to Doug (Evan Linder), and the shy and caring Rachel (Annie Munch). But Pegasister Maggie (Anu Bhatt) brings an uncomfortable twist into the safe space of the brony group: she has recently become entangled with the new neighborhood watch, who pulled her aside as she was wearing her pony costume on the streets.
In this manner, Meyer sets up the dichotomy at the core of THE ANTELOPE PARTY from the beginning. The play's exploration of identity and belonging demonstrates that those two needs can be both comforting and destructive at the same time. As the neighborhood watch grows in numbers and also develops stronger ideology, referring to themselves as "The Antelope Party," the bronies find themselves forced to choose if they will accept the protection of this new party or if they will stand by the decidedly friendlier values espoused in MY LITTLE PONY.
Meyer clearly intends THE ANTELOPE PARTY to be a cautionary tale, and he succeeds in setting up the human need for belonging as a double-edged sword. As the play unfolds, the bronies make dramatically different choices in how they respond to the rise of the Antelope Party, which becomes alarmingly fascist in nature. Some bronies embrace the sense of security and power that the neighborhood watch provides, while others struggle with what it would mean to submit.
Under the helm of Theater Wit Artistic Director Jeremy Wechsler, THE ANTELOPE PARTY has a stellar ensemble to bring Meyer's work to life. Will Allan embodies every moment of Shawn's awkwardness and makes achingly clear that the brony group is the one place where Shawn feels at home. As he becomes entangled with the Antelope Party, Allan also undergoes a stunning transformation that is positively unnerving. Edward Mawere gives a spirited turn as Ben, who wholeheartedly sells his character's devotion to the culture of MY LITTLE PONY. Munch displays a quiet determination as Rachel, and she is mesmerizing to watch on stage. Bhatt is compelling as Maggie, showing us her character's struggle to decide if her allegiance lies with the bronies or the neighborhood watch. Linder lends both vulnerability and strength to his portrayal of Doug. And as meeting interloper Jean, Mary Winn Heider displays superb comedic timing in the two scenes in which she appears.
Overall Meyer has certainly given THE ANTELOPE PARTY a timely message that Theater Wit's ensemble effectively conveys, but it is also an incredibly explicit one. Meyer's desire to explore the play's central themes and the dangers of the new neighborhood watch also threaten to eclipse the play's examination of brony culture. The play's earlier scenes give us many humorous and illuminating moments as we are given the opportunity to learn more about the lives of the bronies, but this lightheartedness and unique material rapidly disappears.
THE ANTELOPE PARTY runs through February 24 at Theater Wit. Tickets are $28-$70. Visit TheaterWit.org to learn more.
Photo by Charles Osgood
| | |
| --- | --- |
| Vote Now for the 2022 BroadwayWorld Chicago Awards | |
| voting ends in | |
Chicago native Rachel Weinberg has been one of the most frequent contributing editors and critics for BroadwayWorld Chicago since joining the team in 2014. She is a marketing professional specializ... (read more about this author)
Movies This Christmas Season for Broadway Fans — Old and New

November 17, 2022

Here's our selection of brand-new, recent, and classic festive films featuring some of theater's most iconic faces that you won't want to miss.
---
Review: TROUBLE IN MIND at TimeLine Theatre Company

November 11, 2022

What did our critic think of TROUBLE IN MIND at TimeLine Theatre Company? TROUBLE IN MIND is a blistering portrait of racial and gender politics on Broadway.
---
Review: RENT at Porchlight Music Theatre

November 7, 2022

What did our critic think of RENT at Porchlight Music Theatre? Jonathan Larson's 1996 Pulitzer Prize and Tony Award winning musical RENT comes to life in a Porchlight production that captures the ethos of the original Broadway production. It also the fresh energy of the musical's message about love, acceptance, and living in the moment.
---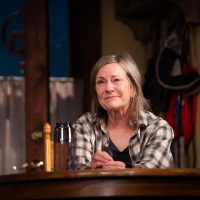 Review: SWING STATE at Goodman Theatre

October 24, 2022

What did our critic think of SWING STATE at Goodman Theatre? Rebecca Gilman shows her deftness at writing "slice of life" plays in SWING STATE at Goodman Theatre. In this latest collaboration with outgoing Goodman Theatre Artistic Director Robert Falls, Gilman introduces four characters at a crossroads in a small town in rural Wisconsin during summer 2021. It's marketed as a play about the pandemic, and indeed, SWING STATE contains some references to the COVID-19 pandemic, masks, and vaccines. Ultimately, though, SWING STATE is a pure character study with the notions of pandemic and extinction of the human race in the background, and notions of mortality and despair in the foreground. Yes, it's a post-pandemic play, but really it's just allowing us to peer into the lives of these characters at a moment in time. That's not to say that Gilman's play isn't moving, but I found the overall execution to not be as overarching as the set-up purports.
---
Review: CLUE at Mercury Theater Chicago

October 21, 2022

What did our critic think of CLUE at Mercury Theater Chicago? Mercury Theater's CLUE is a comedic delight of a production. The laughs flow freely and easily in this stage adaptation of the farce-meets-murder-mystery based on the iconic 1985 film. Director L. Walter Stearns's ensemble lands each and every moment, maximizing the laughs but maintaining the integrity. These actors understand the assignment of both farce and murder mystery: The characters in CLUE take themselves and the outrageous situations of the play deeply seriously, and the ensemble finds the comedy in playing those truths. It's a near masterclass in how farce should be performed. The fact that the play is only 90 minutes also means the stage adaptation doesn't overstay its welcome: There's just enough time to set up the mystery, play the antics, and send audiences home after a delightful, hilarious time.
---