Auditorium Brings TOO HOT TO HANDEL: THE JAZZ-GOSPEL MESSIAH Beyond The Stage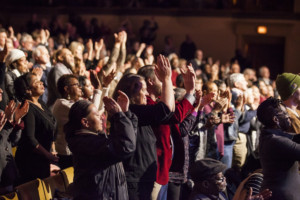 The Auditorium Theatre is proud to continue to extend the impact of its signature show Too Hot to Handel: The Jazz-Gospel Messiah beyond the stage with programs offered to schools, community groups, and correctional facilities. Too Hot, hosted annually on Martin Luther King, Jr. Day weekend in honor of his life and legacy, is a joyous, uplifting show that puts a jazz, gospel, rock, and blues twist on Handel's classic Messiah oratorio. The production features soloists Rodrick Dixon (tenor), Alfreda Burke (soprano), Karen Marie Richardson (alto), the famed Detroit pianist Alvin Waddles, a 100-person choir, an orchestra, and a jazz combo.
"Every year Too Hot brings people together to experience the transformational powers of the performing arts, giving our patrons the opportunity to feel connected and uplifted," says C.J. Dillon, Auditorium Theatre Chief Programming Officer. "We present these programs throughout the community to give even more people the chance to engage with this inspiring show."
Too Hot to Handel Prison Engagement
The Auditorium Theatre will be live-streaming the performances of Too Hot to correctional facilities in Illinois and the Louisiana State Penitentiary (Angola). Additionally, for the first time, the theatre will host residencies at the Illinois Youth Center (IYC)-Chicago and the Cook County Jail, working with residents to connect the messages of Too Hot to Dr. King's vision of a "beloved community." At IYC-Chicago, Auditorium Theatre Teaching Artists will conduct two five-class music residencies, with each class composing its own music piece after studying the lyrics and rhythms of Too Hot. Each residency ends with a presentation of each student's work and a screening of Too Hot to Handel. At Cook County Jail, Auditorium Theatre Teaching Artists will conduct a two-part poetry residency, based around Dr. King's famous "Letter from a Birmingham Jail" and the lyrics of Too Hot. Teaching Artists will also offer six viewings of the Too Hot to Handel performance and curate discussions around each screening at the Cook County facility.
Too Hot to Handel School Engagement
Each year, the Auditorium Theatre's Creative Engagement department works with students across the Chicagoland area, connecting the messages of Too Hot and Handel's Messiah to poetry, music, and King's texts and speeches.
Five-class music and poetry residencies are free to Chicago Public Schools, and many classes that participate also attend the one-hour Too Hot Student Matinee on January 18. In 2019, residencies will be hosted at elementary schools in the South Austin, Englewood, Eden Green, Bronzeville, Rogers Park, and Back of the Yards neighborhoods.
"We use the incredible history and score of Too Hot to Handel as a diving-off point for students to discover their own power as agents of change and representation, following the traditions established by Dr. King and the civil rights movement of the 1960s," says Sarah Illiatovitch-Goldman, Auditorium Theatre Creative Engagement Associate.
In the residencies, students engage with texts such as the "I Have a Dream" speech and music from Too Hot to observe the ways that music, lyrics, and texts can create an emotional impact. They also observe connections between Dr. King's speeches and Too Hot: For example, Dr. King used Biblical text in his speeches that is also referred to in the music, such as the phrase "I have a dream that one day every valley shall be exalted, every hill and mountain shall be made low, the rough places will be made straight and the glory of the Lord shall be revealed and all flesh shall see it together," which quotes from the same passage used in the Too Hot song "Every Valley."
In the music residency, students examine the sounds of their own communities and Dr. King's concept of a "beloved community." Students reflect on the things that they would like to change about their communities before working together as a class to develop an original composition, performed on the last day of the residency. In the poetry residency, students create their own poems based on their own experiences, responding to the prompt "How has my community shaped me?" The poetry residency ends with students reciting their poems for their classmates.
Too Hot soloists Rodrick Dixon and Alfreda Burke, along with conductor Suzanne Mallare Acton, host a three-hour Master Class with the Our Lady of Mt. Carmel Choir in early January. The choir then joins the professional musicians on stage during the Too Hot Student Matinee on January 18 to perform the "Hallelujah!" chorus.
The Auditorium also selects three winners for its annual Too Hot Poetry Contest, open to students in grades 3-12 and prompting them to respond to the question, "How has my community shaped me?" Poetry Contest winners receive four tickets to a performance of Too Hot and the chance to perform their compositions on the Auditorium's landmark stage.
Thousands of students from across the Chicagoland area attend the Too Hot to Handel Student Matinee, a special one-hour performance, on January 18, 2019.
Too Hot Community Engagement
Through its ADMIT ONE program, community groups who may face barriers to experiencing the performing arts have the opportunity to see a production at the Auditorium Theatre. In addition to performance tickets, groups also have their transportation costs covered by the Auditorium and attend pre-show workshops, hosted by Auditorium Theatre Creative Engagement staff, to help them engage with the performance. More information about the ADMIT ONE program can be found here.
EXELON - Presenting Sponsor
ALLSTATE - Educational Outreach Sponsor
CIBC - Student Matinee Sponsor
THE Robert Thomas BOBINS FOUNDATION - Student Matinee Sponsor
Additional support provided by FRIENDS OF TOO HOT
Performance Information
Too Hot to Handel: The Jazz-Gospel Messiah
Friday, January 18 | 11AM - One hour Student Matinee performance
Saturday, January 19 | 7:30PM
Sunday, January 20 | 3PM
Tickets start at $29 and are available online at AuditoriumTheatre.org, by phone at 312.341.2300, or in person at the Auditorium Theatre Box Office (50 E Ida B Wells Dr). Student Matinee tickets (for K-12 groups of 10 or more people) are $10 and are available by phone at 312.231.2357. Inquiries regarding Student Matinee tickets may also be submitted online here. Too Hot to Handel: The Jazz-Gospel Messiah is a part of the Auditorium Theatre's American Music Series subscription (which also features A Whole New World of Alan Menken), which offers a 20 percent discount on tickets. Discounts are also available for groups of 10 or more people.
The Auditorium Theatre also offers $15 student rush tickets to full-time college students and $5 tickets to young people ages 13-19 with Urban Gateways' Teen Arts Pass program. Applications are also currently being accepted for the Auditorium's ADMIT ONE program, which offers complimentary tickets to Chicago-area community groups.
Related Articles View More Chicago

Stories

Shows
More Hot Stories For You