A DICKENS CAROL Comes to Madison Street Theatre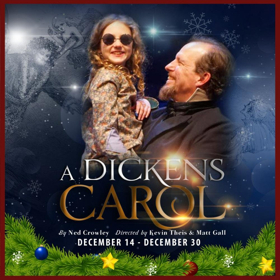 Before Scrooge. Before Jacob Marley. Charles Dickens had his own ghosts to contend with.
Back by popular demand, A Dickens Carol is an all-new holiday tradition that re-imagines the story of Scrooge from Dickens' point of view and real-life events.
It's 1842 Victorian London, and Dickens popularity is on the wane. His marriage and finances are in trouble and he has become embittered towards life itself. Yes, in a way, Dickens has become a bit of a Scrooge. A character he has yet to even create! But on a cold Christmas eve, his fortunes take a dramatic turn when a train crash sends Dickens into the icy Kent river. There, in a sinking carriage, Dickens is visited by three Spirits who lead him on a journey through his past, present, and future. A journey that transforms his life and inspires him to write his most celebrated work ever. "A Dickens Carol" is not only the carol behind the most famous carol of all time. It's an all-new twist on a family ghost story that promises to melt the heart of any Scrooge out there.
THE CAST
Kevin Theis*^ (Dickens)
Jhenai Mootz^ (Kate/Catherine)
Kevin Patterson (Chapman/Forman/Vendor 2/Rescue Worker/Ensemble
Erica Bittner^ (Female Prisoner/Mrs.Ratchford/Dilbert/Past/Ensemble)
Mark Lancaster^ (Father Christmas/Winterfezz/Ghost of Christmas Present)
Andrew Bailes (Ratchford)
Robert Koon (Shakespeare/Seargent Joe/Ensemble)
Kate Vargulich (Georgy/Musician/Ensemble)
Delilah Lane (Little Kate/Little Belle/Ensemble)
Sam Theis (Charlie/Peter/Ensemble)
Frederick Harris (Conductor/Future/Ensemble)
Miles Chong (Blackie/Walter Ratchford/Ensemble)
Magaret Garofalo (Mrs. Winterfezz, Hall/Mrs. Oliver/Vendor 1/Ensemble)
*Member of Actor's Equity Association
^ OPFT Company Member

DATES
December 14 - 30, 2018
Thurs-Sat at 8pm | Sat & Sun matinees at 3pm
1st PREVIEW Friday, December 14th at 8pm
2nd PREVIEW Saturday, December 15th at 3pm
OPENING NIGHT Saturday, December 15th at 8pm
RUNNING TIME 90mins
TICKETS
General admission $35 | Seniors $28 | Students & Children $15 Preview: General admission $20

MADISON STREET THEATRE
Main Stage
1010 Madison Street
Oak Park IL 60302