Click Here for More Articles on Road To Reopening
Road To Reopening: How The Shawnee Playhouse Embraced Virtual Theatre During The Pandemic
The playhouse conducted 87 virtual productions, in addition to virtual cabarets and other online content.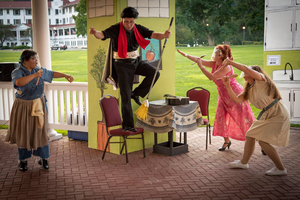 BroadwayWorld is checking in with theaters around the country as they prepare to reopen this summer. Next in our series we check in with Midge McClosky, the executive director of the Shawnee Playhouse!
A prolific actress and director, Midge has worked all across the United States and abroad. Favorite roles include Guinevere in Camelot, Meryl Streep in Dressing Room Divas (OObie Award), Vivian in Wit and Rosie in the Shawnee Playhouse Production of Mamma Mia! Midge became the Executive Director of the Shawnee Playhouse in 2006. Since that time she has created the prolific Shawnee Original Playwright's Festival (S.O.P.S.) and developed the very successful Shawnee Theatrical Resource School (S.T.A.R.S.) which provides acting classes and camps for children.
What has your theater's staff been up to over the past year?
As a small theater, most of the paid staff was on either a part-time or a per-show contract basis pre-covid. This of course means that they have had little to no involvement with the theater and if they did they were volunteering their time.
Those of us who powered through the pandemic had to pick up additional responsibilities to carry on. In a nutshell, we have been busy! The Shawnee Playhouse did 87 ZOOM readings of new original plays, 4 virtual cabarets, 2 live-streamed radio plays, 4 groups on on-line classes, 2 musicals (LIVE and in person! full-scale, outdoor, socially distanced & masked), 2 weeks of outdoor, in person, fully masked acting camps for children, 6 world premiere plays in our Short Play Festival (5 LIVE and in person! full-scale, outdoor, socially distanced & masked the 6th recorded live on location and shared virtually) and 2 Dinner Theater productions (Live and in person! Full scale indoor, socially distanced and masked in the extremely spacious grand ballroom of the Shawnee Inn and Golf Resort).
We have been very busy and creative. Not a single one of these things listed was done in our actual space. Our creativity and perseverance allowed us to offer an outlet to our acting community and entertainment to our season ticket holders and guests.
How has the pandemic most affected your company?
The most obvious way is in the fact that the venue has been closed to the public since last March. A more subtle way is the fact that the theatrical community and the dormancy of that takes away an integral part of our community life.
Have you done any streaming theatre/events?
We have! We did a few cabarets in an effort to raise funds for our alumni scholarship. We were able to give 3 $500 awards as a result. We also did our Shawnee Original Playwright Series (S.O.P.S.) competition entirely on zoom. We read at 87 plays live and we had live streamed, original works.
What have the audience reactions to you digital performances been like?
They have been very supportive and generous! We are really blessed to have a terrific arts community in the Poconos. Our patrons are a great support system for the arts and they have continued to show their love and concern in every way possible throughout the pandemic.
What have you got coming up you're most excited to share with audiences?
The Productions that we were not able to produce in 2020 will be staged this summer! We are looking forward to Pippin, Hello Dolly, Frozen Junior and Camelot!
How did your venue come up with a reopening plan/covid safety plan?
We are extremely blessed to be part of a resort community. As a direct result of that, we have been able to produce limited, socially distanced, completely masked performances to our public since last August. The majority have been outside in open air spaces, but we have also produced a handful of socially distance interior productions in the extremely spacious grand ballroom of the Shawnee Inn and Golf Resort.
We have been following the guidelines set out by the CDC very closely. In addition I have attended workshops with the NEA and discussed guidelines and protocols with a variety of theater operators in several different locations in similar situations. We feel confident that we have done everything we can to reduce risk and to keep our staff, performers and patrons safe.
We will continue to do so as we move into a post-covid world as well.
Will there be any adjustments in capacity or seating/vaccination or testing requirements?
We have been adjusting our seating. We have been socially distancing the parties in the open spaces without fixed chairs. And if you would've asked me this question yesterday I would've said we would be doing so in the venue. The announcement [recently] from our Pennsylvania governor means that we will not need to do so since we are reopening the venue after June 1!
Will there be any changes to the on-stage aspects of the shows in response to the pandemic?
In the very beginning, we actually integrated the use of hand sanitizer into our productions!! We poked fun (a little) at the fact that we could not touch each other and integrated it into part of the comedy. The audiences really seemed to appreciate it as it was in the height of Covid. We have been performing with face shields both inside and outside for performances as well. The production we have opening tomorrow will be using face shields as well.
Were there any COVID considerations in programming the upcoming season?
Not really. We just moved forward with the season and we were not able to produce last year, except for our choice of holiday shows. We were supposed to do a large, grand production with an enormous ensemble but we selected a four person musical review instead. We even managed to get one performance out to the public before we were shut down in November. Please know we all felt like that ONE SHOW for a very appreciative and supportive socially distanced & masked audience was the best holiday gift we could not only give but also receive.
What a blessing.
Will there be any changes to your ticketing policies, flexible rescheduling, etc?
Most absolutely. This may be the biggest change to our venue from Covid. We are switching to a nearly entirely online presence. Our box office hours have been reduced and we are encouraging all of our patrons to go online to make their purchases. We've even re-vamped the fee structure so that those people ordering online are receiving the best deal. Everyone's become so much more comfortable with the internet and virtual ticketing as a result of Covid so we are eager to continue that.
When and what are you re-opening with?
We have a small production of "Love, Lies and the Lottery" in the ballroom mid May and an outdoor production of Godspell. We are returning to the boards of the historic Shawnee Playhouse in June with Pippin! We've got magic to do!
How can audience members learn more and stay up to date?
First and foremost on our website www.TheShawneePlayhouse.com They can also find us on Instagram & Twitter!