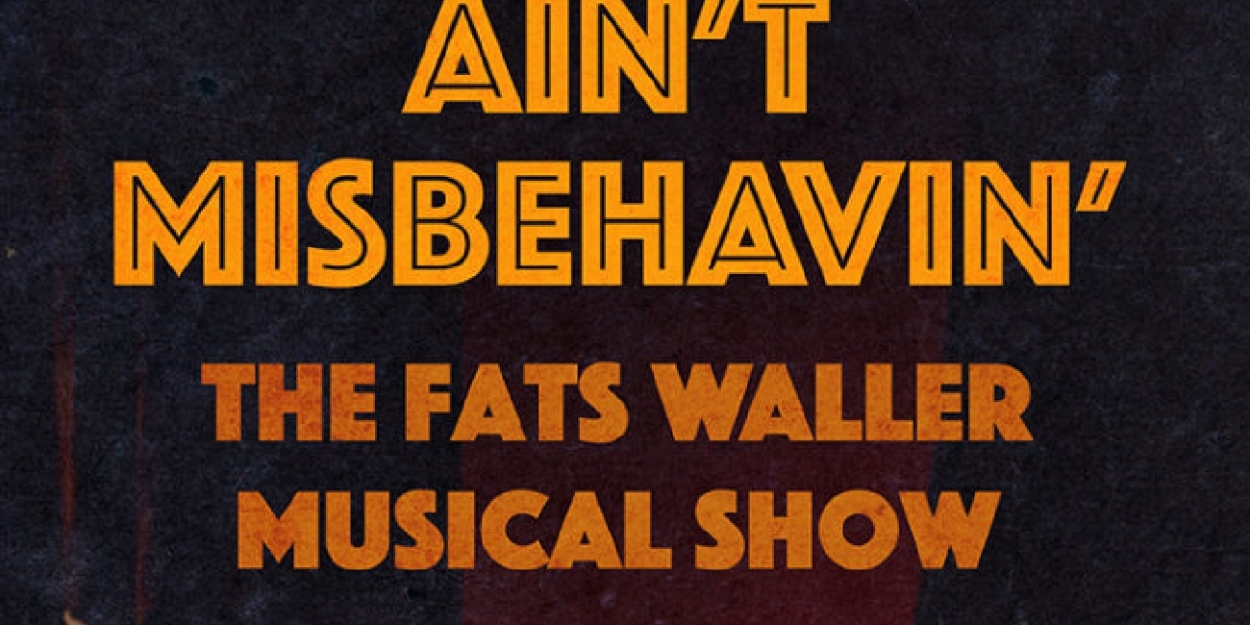 Review: AIN'T MISBEHAVIN' at Geva Theatre
Playing on Geva Theatre's Wilson Stage until February 12th.
It's curious that "Ain't Misbehavin'" feels like such a perfect show for a Rochester audience, given that Fats Waller has no apparent Rochester connection; he was born in New York City, died in Kansas City, and spent the bulk of his short life entertaining audiences across the U.S and abroad. Maybe it's Rochester's internationally-acclaimed jazz festival, the fact that Rochester is home to one of the most elite music conservatories in the world, or that it has a strong connection to black history that makes this biographical show about a pioneering black jazz musician seem so fitting for Rochesterians and Geva Theatre's stage. Regardless of the origins of this mystical connection, "Ain't Misbehavin'" is definitely a show that you're not going to want to miss.
"Ain't Misbehavin'" is a musical revue with a book by Murray Horwitz and Richard Maltby Jr., and music by various composers and lyricists as arranged and orchestrated by Luther Henderson. It is named after the song by Fats Waller "Ain't Misbehavin'". Like most revues, "Ain't Misbehavin" falls somewhere between the definitions of concert and musical; it's more elaborate and engaging than a traditional concert, with a small cast of five (Miya Bass, Paris Bennett, Jay Copeland, Judith Franklin, and Will Stone) performing the songs in character, often in costumes, and utilizing set pieces; but doesn't feature a full narrative storyline like a normal musical would. "Ain't Misbehavin'" features a bevy of classic Fats Waller songs, such as "Honeysuckle Rose", "Handful of Keys", "Yacht Club Swing", and many more.
Whether or not you're familiar with jazz music generally or Fats Waller specifically, Geva Theatre's production of "Ain't Misbehavin" is brilliantly produced and masterfully performed. Fats' iconic music is brought to life by the small cast at times together, and other times solo, but always channeling the spirit and energy of the song and the roaring 1920's and 30's in which it originated. Particular standouts for me were "Stride Piano" and "Fat and Greasy", but each song performed by this talented cast brings the appropriate level of rowdy, raucous, sultry, and exciting.
Equally as fun to watch as the cast is the band, who are situated behind the performers and churn from one song to the next with ferocity and precision, sounding like they were pulled directly from a Harlem nightclub 90 years ago; especially impressive considering they all appear to be in their 20's or early 30's, at most. A special shoutout to musical director Kwinton Gray, who leads the band and tickles the ivories all while performers are climbing on his piano and dancing on and around him at various times.
Geva Theatre has long lived the mission of championing diversity in its storytelling, bringing black-led casts, black playwrights, and stories centered on historically marginalized communities into its fold, so as a show featuring an all-black cast and centered on the music of an iconic black musician, it's no surprise that "Ain't Misbehavin'" found its way into the 2022-2023 season. What's exciting, however, is how immediately noticeable it is that this show diversified the typical Geva audience. In the 15+ years I've been coming to Geva I don't think I've seen such a young and diverse crowd, an encouraging and welcoming sight given how white, wealthy, and 50+ theatre audiences tend to be (everywhere, not just at Geva). It's a testament to the fact that if you want to bring theatre to new audiences, you have to tell different kinds of stories.
"Ain't Misbehavin'" is a wild and exciting ride through the golden age of jazz and the music of a celebrated American musical icon. It's playing on Geva Theatre's Wilson Stage until February 12th, for tickets and more information click here.