Review: ROCK OF AGES Lights Up the Landmark Theatre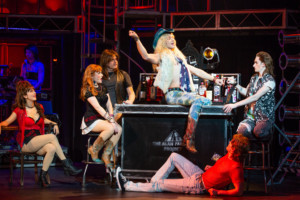 For one night only, the 10th anniversary touring production of Rock of Ages rocked out at Syracuse's Landmark Theatre. The jukebox musical featuring strobe lights, fog effects, classic '80s hits certainly got the crowd going as the cheesy, yet amusing story of love, hope, and dreams played out. It was "nothing but a good time" as the energetic rock musical came to life under the direction of Martha Banta featuring powerhouse vocals, spot on '80s costume designs by Cynthia Nordstrom, and out of this world lighting by Mike Baldassari.
The show admits that it isn't the deepest piece of theater; in fact, book writer Chris D'Arienzo often pokes fun at that fact in his dialogue. The lighthearted story of boy meets girl, boy loses girl, and so on is laced between classic rock songs from the 1980s. With arrangements and orchestrations by Ethan Popp the musical includes familiar hits by Styx, Journey, Bon Jovi, REO Speedwagon, Poison, Steve Perry, and many more. The onstage Rock of Ages band rocked out to all of these hits under the musical direction of Marshall Keating.
This brings us to the concept.
Lonny (John-Michael Breen) works in the Bourbon Room a famous Hollywood club and he also serves as the show's narrator, appearing in most of the scenes. John-Michael Breen as Lonny was carefree, hilarious, and has a killer set of pipes and moves. As the narrator, he often had the opportunity to break the fourth wall and he did it with such charm and effectiveness, staying perfectly in character. He opened the show with "Cum on Feel the Noize (Pre-reprise)" (Quiet Riot) and his infectious energy got the party started and it all escalated from there. Breen stole the show with this entertaining role.
The Bourbon Room, owned by the Dennis (Ryan M. Hunt, who was highly entertaining on REO Speedwagon's "Can't Fight This Feeling" along with Breen) is where much of the story takes place and the visual storyteller David Gallo's design allowed for easy effortless scene changes. Janet Rothermel's choreography complemented the atmosphere and her energetic and rocking moves were superbly executed throughout.
Like stated before there is a love story. The story centers on Drew (Anthony Nuccio), an aspiring rocker, who also works in the Bourbon Room. This charming busboy who just wants to rock immediately falls for an aspiring actress from Kansas named Sherrie (Katie LeMark) who just arrived in Hollywood. Anthony Nuccio brought the house down with numbers such as "Nothin' but a Good Time" (Poison), "I Wanna Rock" (Twisted Sister), "Oh Sherrie" (Steve Perry), "The Search is Over" (Survivor), and many more. Katie LeMark, likewise, often stole the spotlight with her killer vocals and confidence as Sherrie. Some of her standout numbers include "Sister Christian" (Night Ranger), "Waiting for a Girl Like You" (Foreigner), "Wanted Dead or Alive" (Bon Jovi), "Harden My Heart/Shadows of the Night" (Quarterflash/Pat Benatar) "Any Way You Want It" (Journey), "High Enough" (Damn Yankees), just to name a few. Nuccio and LeMark's chemistry was superb.
In any case, The Bourbon Room has its own problems piling up because a pair of German developers - Hertz (Andrew Tebo) and Franz (Chris Renalds) - arriving in Los Angeles trying to introduce "clean living" rather than the "sex, drugs, and rock-n-roll" life that is fully embraced on the Sunset Strip in the mid to late 1980s.
Andrew Tebo as Hertz delivered a memorable rendition of REO Speedwagon's "Keep on Loving You." While Chris Renalds as Franz brought the house down with his energetic and animated "Hit Me With Your Best Shot."
Kristina Waltz delivered killer vocals as the protester Regina in the number "We're Not Gonna Take it" (Twisted Sister). Other standouts included Kenya Hamilton's breathtaking vocals and Sam Harvey's entertaining portrayal of the rocker Stacee Jaxx. Darrell Purcell Jr.'s line delivery as the Mayor was also a high point.
The entire ensemble also showcased some rockin' dance moves, killer vocals, and plenty of big crazy hair thanks to Monica Sabedra's hair and wig design. The entire cast brought the house down with Journey's "Don't Stop Believin."
There were a few sound issues (sound design Cody Spencer) during the performance. The only other issue - at least for me - was the fact that this type of jukebox musical attracts a certain type of crowd. The audience seemed to think that it was, in fact, a rock concert often singing along to the music when some more experienced theatergoers would prefer to just hear the talents on stage. However, that said, this musical does encourage the crowd to join in.
Rock of Ages is certainly a loud, energetic, crazy fun musical. Jukebox musicals - well you can love them, tolerate them, or hate them. The great thing about jukebox musicals is that it does get people in the theater who might not otherwise attend, as was made clear by the crowd in attendance at the Landmark. Familiar classic 80s songs come to life with a powerhouse cast.
Running time: Two and half hours with one twenty-minute intermission.
Rock of Ages the 10th Anniversary tour performed for one night only on June 5, 2019 at the Landmark Theatre in Syracuse, New York as part of The Famous Artists Broadway Theater Series Broadway in Syracuse. For tickets and information on the 10th Anniversary tour of Rock of Ages, click here. For information on The Famous Artists Broadway Theater Series Broadway in Syracuse, click here.