BWW Review: MURDER FOR TWO is Comedic Perfection at The Merry-Go-Round Playhouse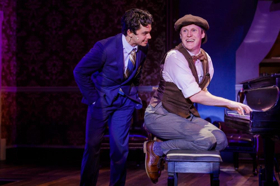 The Merry-Go-Round Playhouse in Auburn, New York is at again bringing a standout production to the Finger Lakes. This time around it is the hilarious murder mystery musical Murder for Two, brilliantly directed by Scott Weinstein with music direction by Jeff Cox.
Joe Kinosian (book and music) and Kellan Blair's (book and lyrics) unique 90-minute cabaret style musical comedy is chock full of comedic music and eccentric characters. It features a cast of only two actors portraying multiple roles who all play a part in trying to figure out who murdered Arthur Whitney, the famous novelist.
The Merry-Go-Round production features some strong technical design work and brilliant acting. The result is musical comedy perfection.
Czerton Lim's set design for this murder mystery transports us to the murder victim's mansion. It includes a piano, which the two cast members take turn playing while they sing and act, making the production even more unique and interesting. Dan Ozminkowski's lighting design helps make the character transformations clear and adds a lot of comedic and dramatic flair.
Anthony Norman portrays Marcus, an officer trying to prove to the Chief that he would, in fact, make a good detective - and this murder is a chance to make his case. Norman's vocals are expressive and dramatic, ensuring each of his musical numbers are extremely memorable. His catchy number "Protocol Says" sets up the character in an instant. Norman gives a standout performance in every way, including as a musician. He demonstrates passionate and intricate piano skills throughout. His chemistry with Noel Carey, who portrays all the suspects, is perfection.
Speaking of suspects, they range from Arthur's attention-seeking wife Dahlia, a prima ballerina named Barrette Lewis, the very friendly psychiatrist Dr. Griff, to Arthur and Dahlia's niece working on her thesis, a quarreling married couple, a boy choir, and a firefighter. Noel Carey does an amazing job of playing all these crazy characters. He is one of those actors that has returned to Merry-Go-Round Playhouse. Having seen him in the role of Jerry Lee Lewis in Million Dollar Quartet, where he stole the show, he is the perfect choice for this role. Carey is a natural showman and he effortlessly transforms himself into each character/suspect in an instant. Every slightest body movement and vocal inflection makes it easy for the audience to figure out which suspect is taking center stage. He brings down the house in every number he is in.
Merry-Go-Round Playhouse is one of those theaters where you can't help but fall in love with each production. They always give their all in every production. The care taken with the casting, the costumes, the sets - the list goes on making this theater a standout. That is probably why this theater also constantly sees returning Equity actors such as Noel Carey.
Some of my favorite musical numbers include "A Perfectly Lovely Surprise," Dahlia's big and over-the- top number "Steppin' Out of the Shadows," Dr. Griff's hilarious number "A Friend Like You," Marcus' "Process of Elimination" and "Finale," and "Prelude/Waiting in the Dark." The actors open the show with this latter number practically fighting over the piano in the most hilarious way.
Overall, Murder for Two is a truly unique comedic production that asks the question of who actually killed Arthur Whitney? Well, you need to go see this production to find out. This is a murder mystery unlike any other and this hilarious production is a definite must-see. Slapstick humor, a talented two-person cast, and dramatic musical numbers, it is the perfect carefree musical escape.
Running time: 90 minutes with no intermission.
Murder For Two runs through September 15, 2018 at The Merry - Go - Round Playhouse in Auburn, New York as part the Finger Lakes Musical Theatre Festival. For tickets and information on this and upcoming productions, click here.
Related Articles View More Central New York

Stories

Shows