BWW Review: MAMMA MIA! is an Absolute Delight at Cortland Repertory Theatre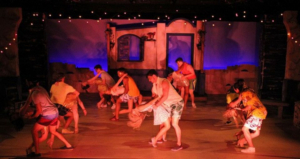 Mamma Mia! "Here we go again." There is now another production in Central New York of this hit jukebox musical based on the songs of ABBA. This time around it is a delightful production at the picturesque Cortland Repertory Theatre in Preble, New York. For a musical that is repeatedly (sometimes too much) performed throughout the country, the Cortland Rep production, directed by Kerby Thompson, is quite fresh, powerful, and exciting.
The musical, of course, features music and lyrics by Benny Andersson and Björn Ulvaeus and some songs with Stig Anderson. Catherine Johnson (Book) transports us the musical to the Greek Islands where a young girl named Sophie (Amanda Walker) is getting ready for her dream white wedding. She would love to have her father at her picture-perfect wedding, but she does not know who he is. After reading her Mother's diary, she learns she has three possible Dads and she is determined to find out which one is her Father. So, she goes ahead and invites Harry Bright (Steven Bidwell), Bill Austin (Jack Boice), and Sam Carmichael (Woody Minshew) to the wedding without telling her Mother, Donna (Rebecca Mason-Wygal), a very independent and hardworking woman that runs a local taverna. All the guests soon arrive, including Donna's best friends who were part of a girl group called "Donna and the Dynamos." Luckily for Donna, she has her two best friends by her side as these three men walk back into her life.
Music Director Shoshanna Seid-Green leads the seven musicians who bring the hit and familiar songs to life from behind a curtain. Songs such as "Dancing Queen," "Mamma Mia," "Chiquitita," "Super Trouper," and "Thank You For the Music" are pure fun. You can't help but be excited and smile as the talented musicians play them energetically.
This production features a very talented cast of professional actors, recent college graduates, and members of the Cortland Repertory Performing Intern Company. One thing for sure is that every one of the cast members is having a blast on stage and they all have great chemistry with one another.
As Sophie, Amanda Walker knows how to steal the spotlight. Walker's powerful vocals are chilling in numbers such as "The Name of the Game" and "Thank You for the Music." She is picture perfect for the role with her wavy blonde locks and perfectly sun-kissed skin. She gives a passionate and confident performance as she effortlessly belts out the familiar songs. Having seen the musical several times now, Walker's take on Sophie is one of the best I have seen. Her chemistry with Alexis Yard as Ali and Shealyn Kelley as Lisa is perfection, especially during the musical number "Honey, Honey." Yard and Kelley deliver memorable performances as well as Sophie's energetic and spunky besties.
Jeffrey Keller plays Sky, Sophie's fiancé. He seemed to be fighting off a cold at least at the performance I attended. That did not hinder his performance though, professional that he is. Keller's energy and charm take center stage as he sings "Lay All Your Love on Me," the entertaining number that also features the male ensemble dancing on stage with flippers. It is always a fun number and this rendition is no exception. Keller and Walker have adorable onstage chemistry.
The three actors portraying Sophie's possible Dads stole the spotlight thanks to their stellar vocals and charm. Steven Bidwell, as Harry Bright, delivers some very clear and crisp vocals on "Thank You for the Music" and "Our Last Summer" and gives a very consistent performance overall. Jack Boice is charming ansd comedic as Bill Austin, especially when he skips about the stage. Boice is especially entertaining alongside Kennedy Salters in "Take a Chance on Me." Woody Minshew plays Sam Carmichael and his effortless and expressive tenor voice, charm, and power make him a scene stealer, especially when performing "S. O. S" and "Knowing Me, Knowing You."
Rebecca Mason-Wygal delivers a nice performance as Donna. Her number "Winner Takes it All" was a highlight, but - at least on the night I attend - it was one of the only ones where there was much power in her voice. Otherwise, throughout much of the show I attended, her vocals were often overpowered by the rest of the cast. However, thanks to Kerby Thompson's fresh direction and Bryan Knowlton's intriguing choreography, her number "Mamma Mia" was the best moment of the show. The impeccable staging and interpretation made this a stunning moment as younger versions of the three men and Donna take the stage alongside the present versions, as Donna recalls falling for each man.
Erica Wilpon and Kennedy Salters are hilarious as Tanya and Rosie, respectively. They often steal the show, particularly with audience favorite numbers such as "Dancing Queen," "Chiquitita," and "Super Trouper." Wilpon dazzles and flaunts it in the sassy and seductive role, especially with her rendition of "Does Your Mother Know." Salters never disappoints in any role I've seen her perform at Cortland Repertory Theatre and this show is no exception. She is a phenomenal character actress and steals the spotlight with "Take a Chance on Me," showcasing some entertaining choreography by Bryan Knowlton.
Other standouts include Usman Ali Ishaq as Pepper who has spot on charm and chemistry with Wilpon in "Does Your Mother Know." Christian Henry is entertaining with his spot on and comedic line delivery as Eddie. He is a natural. The entire ensemble commands your attention with "Under Attack," "Voulez Vous," and "I Do, I Do, I Do." Their energy is infectious.
The artistic elements are also first rate. Nicholas James Schwartz's minimalist scenic design allows for easy and effortless scene changes. The set is enhanced by Matt Webb's lighting design, which helps the audience get transported to the Greek islands where the music of ABBA, jumpsuits (costume design Katherine Tarkulich), disco lights, and powerful performances take center stage.
The global hit musical Mamma Mia! is beloved by many audiences and it's the perfect summer escape at Cortland Repertory Theatre. It's a pure delight thanks to the very impressive direction, powerful performances, and just fun music.
Running time: Approximately two hours and twenty minutes with one fifteen-minute intermission.
Mamma Mia! runs through July 27, 2019 as part of Cortland Repertory Theatre's Summer Theatre of 2010. The theatre is located at the Little York Pavilion at 6799 Little York Lake Road, Preble, New York. For tickets and information on this production and upcoming productions at Cortland Repertory Theatre, click here.