Review: KINKY BOOTS Plays The Oncenter Crouse Hinds Theater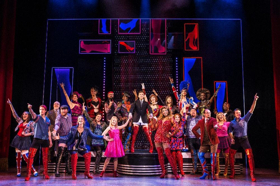 The latest tour entertaining audiences as part of Broadway in Syracuse at the Crouse Hinds Theater is the Tony Award-winning musical Kinky Boots, featuring a book by Harvey Fierstein with music and lyrics by Cyndi Lauper.
The musical, directed and choreographed by Jerry Mitchell, is based on the Miramax motion picture of the same name. The plot is simple and straightforward. Charlie Price (Lance Bordelon) is struggling to follow in his father's footsteps and successfully run the family shoe factory, Price & Son. Price meets Lola (Jos N. Banks), a fabulous and confident performer in need of the right pair of stilettos. With Lola's help, Charlie brings Price & Son to new heights. It goes from being a gentleman's type of shoe factory in Northampton, England to one that offers the glitz and glamour of the Milan fashion industry.
All things considered, this musical is not the deepest we've seen in recent years although there are some wonderful messages about how being different is ok and the need to accept people for who they are. The story also emphasizes the idea that you may have something in common with an unlikely person. These messages, however, get lost at times with the over-the-top and, at times, tacky spectacle.
The talents of the choreographer, performers, and musicians, however, shine through. The tour features a very talented cast armed with powerhouse vocals, amazing dance skills, and perfect chemistry. Jerry Mitchell's choreography is impressive as is the live orchestra directed by Kevin Casey. The entire cast is clearly having a blast on stage, which helps the audience enjoy the show even more.
Several principal performers stand out.
Lance Bordelon, as Charlie Price, showcases some impressive vocals as he sings out his numbers "Step One" and "Souls of a Man." His comedic charm radiates throughout the show although he, at times, seemed to be holding back on some notes on opening night.
Jos N. Banks dazzles in the role of Lola. He struts across the stage with confidence and passion and his impressive acting, singing, and dancing make him a true triple threat. His vocals are powerful, passionate, and memorable in each number, and he connects very well with the material. He displays confidence when he sings "Sex Is in the Heel," and brings the comedy in "What a Woman Wants." His rendition of "Hold Me in Your Heart" is breathtaking, but it's "Not My Father's Son" that packs the greatest emotional punch. This is the finest number Ms. Lauper wrote for the show because sometimes less is more. Banks is also just purely entertaining in his various numbers with the Angels.
Sydney Patrick as Lauren is a highlight thanks to her spunky personality, stellar character acting, and entertaining vocals. Her comedic number "The History of Wrong Guys" is pure entertainment. Her spunk and charm are evident throughout.
Other standout performers include Adam du Plessis as Don, Monica Ban as Trish, Jeffrey B. Duncan as Mr. Price, Ethan Kirschbaum as Harry, and Hayley Lampart as Nicola. Lampart has some killer belting skills. The Angels (Brandon Alberto, Jordan Archibald, Eric Stanton Betts, Derek Brazeau, Tony Tillman, Ernest Terrelle Williams) are all very memorable. They flawlessly execute the difficult choreography as Gregg Barnes' intricate and flashy costumes catch your eye.
The flashy and dramatic lighting designed by Kenneth Posner helps set the mood. The scenic design by David Rockwell allows for easy and quick scene transitions in the very fast-paced musical.
The tour of Kinky Boots features very gifted and passionate performers who give their all in every moment in the production. Their energy and passion make the show entertaining, but overall this musical will be appreciated by those that prefer spectacle to story.
Running time: Approximately two and half hours with one twenty-minute intermission.
Kinky Boots runs through March 15, 2018 at The Oncenter Crouse Hinds Theater as part of Broadway in Syracuse. For tickets and information on the tour of Kinky Boots, click here. For tickets and information on Broadway in Syracuse, click here.