Review: A CHARLIE BROWN CHRISTMAS at the Redhouse is the Perfect Holiday Treat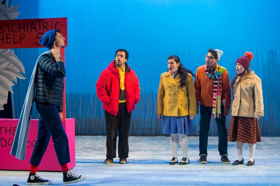 Memories and tradition are a large part of the Holiday and watching Bill Mendez and Lee Mendelson's television special A Charlie Brown Christmas is certainly a Holiday tradition for many children and adults. The Redhouse Arts Center brings Eric Shaeffer's stage adaptation by (with special arrangement with Arthur Whitelaw and Ruby Persson) to life under the delightful direction of Jonathan David Martin. Indeed, A Charlie Brown Christmas is the first holiday show to take place in the newly relocated Redhouse and it is a delightful trip down memory lane.
The stage show is very similar to the television special that was inspired by Charles Shultz's "Peanuts" comic strip of characters - Snoopy, Lucy, Sally, Linus, Schroeder, of course Charlie Brown, and the rest of the gang. The similarities extend to the music. Three onstage musicians (Erica Moser on piano, Sean Peters on Bass, and James Petrello on drums) play Vince Guaraldi's familiar score under the entertaining direction of Napat Mingkwanyuen (cast in the role of Schroeder).
This theatergoing experience includes a bit of a pre-show so be sure to come early for a fun little treat of the cast performing a variety of Holiday songs. Watching the cast transform into their characters is a delight and you are instantly hooked. At the start, Snoopy (Mariko Iwasa) tries to interrupt the concert Schroeder (Napat Mingkwanyeun) is directing and Charlie Brown (Maxwel Anderson) tries to control his dog that is outwitting him. This concert opener goes on for about fifteen minutes when Charlie Brown chases Snoopy around the entire theater. The rest of the cast brilliantly interacts with one another with a whole lot of perfect comedic charm. This engaging opening treat is pure joy to be sure.
The show features a wonderful cast.
Maxwel Anderson is perfection as Charlie Brown. Anderson's shaved head and expressive eyes are perfect for the role and his expressions ensure likeability. His chemistry with the rest of the cast also contributes to his stellar performance. His response to Snoopy's energy, expression of irritation with Holiday commercialism, and reaction to the disastrous rehearsal of a Christmas play he is directing (wearing a black director's hat, of course) are just some of the truly memorable moments.
Mariko Iwasa, an actress that has spent her past four years as a clown in the renowned Ringling Brothers Circus, is highly hilarious in the mostly silent role of Snoopy. She dazzles the audience with her charm, energy, and spunky personality in the beloved role. Iwasa also shows off some seriously show-stopping tap moves perfectly choreographed by Stephfond Brunson. The vaudevillian style actress, of course, steals the spotlight in whatever scene she is in. She even has the opportunity to show off some of her mime skills.
Carleena Manzi is appropriately confident and boisterous as the know-it-all Lucy. Lucy proclaims herself the "Christmas Queen" and she shows off her pipes singing the Mariah Carey Christmas hit "All I Want for Christmas" while wearing an over-the-top red tulle Christmas dress (designed by Heather C. Jackson). It's a moment you won't forget.
Likewise, Napat Mingkwanyuen is perfection as Schroeder. He sits on the floor pounding away at the keys as Lucy critiques his musical choices.
Addy Whitener, a high school junior, shows off her spunk and considerable comedic chops in the role of Sally. Whitener is a scene stealer in the catastrophic Christmas play.
Joseph Buck is perfectly cast as Linus. Of course, he carries around the blue blanket, sucks his thumb, and delivers the familiar and favorite quote "Glory to God in the highest, and on earth peace, good will toward men" and he lets Charlie Brown know that is in fact what Christmas is about.
Gretchen Martino delivers an expressive performance as Violet. Chelsea Lembo delivers many memorable moments as Patty. Ari Cummings is amusing in the role of Pig Pen. Ryan Dunn is delightfully comedic as Shermy. Makyra Alexander's vocals shine in her portrayal of Frieda.
The cast's energy and chemistry within one another are especially apparent in the adorable dance breaks, once again perfectly choreographed by Stephfond Brunson.
Director Jonathan David Martin provides spot-on casting for A Charlie Brown Christmas to life with his spot-on casting. The comedic charm that the cast brings to this production makes it the perfect Holiday treat, especially for young children and adults young at heart. A Charlie Brown Christmas at the Redhouse is a truly adorable and heartwarming production; it is a definite must see for families.
Running time: 90 minutes.
A Charlie Brown Christmas runs through December 16, 2018 at the Redhouse Arts Center, 400 South Salina Street, Syracuse, New York. For tickets and information on this production and all things Redhouse, click here or call (315) 362-2785.