YOUNG VOICES FOR CHANGE Celebrates Rising Artists at 54 Below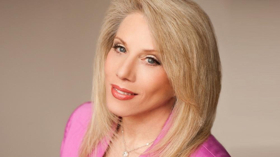 Internationally acclaimed Voice Teacher, Badiene Magaziner, will be hosting a benefit at FEINSTEIN'S/54Below on November 7th at 7PM, Jillian Zack, Music Director. to raise funds for SHINEmsd.org, an organization founded to support survivors of the Marjorie Stoneman Douglas High School massacre which took place last February in Parkland, Florida. The benefit is to help those directly affected by the tragedy and to raise awareness for better gun safety laws.
Magaziner, a Juilliard alumna and faculty member, founded Young Voices For Change, an umbrella group largely comprised of her students, to enable young performers to use their talents to effect social change and have a positive impact in the community.
"I was so impressed with the survivors of the shooting and their campaign for social change! These teenagers organized the March for Our Lives in numerous cities around the country. We were so honored that the Magaziner Vocal Studio (MVS) was asked to kick off the New York City march last spring with the song, SHINE, written by two survivors, Sawyer Garrity and Alexandra Peña." said Magaziner.
Throughout her illustrious career, Magaziner has spearheaded numerous philanthropic endeavors. She began producing, "Erik's Wish," a series of fundraisers in New Jersey after her son, Erik lost his valiant battle with leukemia. Following the first fundraiser, parents asked Magaziner if she would consider teaching their child, and the Badiene Magaziner Vocal Studio was created. Community support is a cornerstone for the MVS and Magaziner is a stellar role model for her students. "I am thrilled to be able to give my students the opportunity to perform at the prestigious FEINSTEIN'S/54Below. We plan to produce two benefits a year to give my students the opportunity to use their talents to give back!"
The show will be comprised of MVS Broadway performers and future Broadway stars, singing favorite Musical Theater and Pop with social awareness themes. Annabelle Kempf (Matilda), Analise Scarpaci (Matlida, A Christmas Story), Nicky Torchia (Kinky Boots, The King and I), Jacob Morrell (Kinky Boots) Amanda Swickle (Annie National Tour), and other MVS aspiring professionals will be participating.
Magaziner is one of the foremost experts in teaching R&B, Pop, Rock, Jazz and Gospel, as well as opera and Musical Theater. The foundation for her work comes from her prestigious Juilliard educational background and a celebrated career as an opera singer. MVS students, both children and adults, have starred in and appeared in numerous Broadway shows including Dear Evan Hansen, Hamilton, Mean Girls, Harry Potter and The Cursed Child, Anastasia, The Ferryman, Frozen, Kinky Boots, Lion King, Charlie and The Chocolate Factory, Fun Home (Tony Nominee, Sydney Lucas), Annie (Lilla Crawford), Miss Saigon, Matilda, An American In Paris, King And I, Les Miserables, Finding Neverland, Pippin, Fiddler On The Roof, and have starred in national tours. Her Pop, Rock, and R&B students have received platinum records and have appeared on "The Voice," (Tyke James in this current season and Bea Miller in 2012) "America's Got Talent,"(1st winner Bianca Ryan) "X-Factor," and "American Idol."
The show will culminate with a performance of the song, SHINE, and a video Magaziner, had produced by Anthony Coluccio of Global Media Music. "I cannot thank Tony enough for all his time and effort producing this video. I must also thank Seth Weinstein, Musical Director and Fran Cathcart of Eastside Sound, Recording Studios. All proceeds for the sale of the video will go to SHINEmsd.org.
To learn more about the Benefit at FEINSTEIN'S/54Below visit: https://54below.com/events/young-voices-for-change-magaziner-vocal-studio-benefit-for-gun-safety/
To learn more about the Badiene Magaziner Vocal Studio visit: http://www.voice-teacher.net/
To learn more about SHINEmsd.org visit: https://shinemsd.org