Secret Variety Society Presents Miss Ekaterina, Sabrina Chap & Magic Brian at the Slipper Room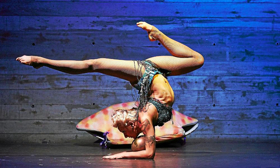 The Secret Variety Society announces a one night only performance of variety, featuring the mind-boggling contortions of sex kitten, Miss Ekaterina, the slutty songstress Sabrina Chap and the comedy-magic of Magic Brian! at the Slipper Room on Wednesday, September 27 at 8pm. Come revel and laugh with some of New York's most wonderfully weird variety artists for an evening of debaucherous and insignificant joy.
Born in Russia, contortionist Miss Ekaterina trained as a rhythmic gymnast and became a member of the Russian National Team, competing successfully in numerous international championships. After retiring from competitions she joined the Antigravity dance troupe and moved to New York City. She was crowned Miss Coney Island, appeared in Julie Taymor's "Across the Universe", came out of giant clam, floated inside a snow globe on the lake at the Greenwood Cemetery, served drinks while in a backbend, got two cats and rode motorcycle on a high wire. Ekaterina holds her dream job as a variety performer and entertains people of all ages around the world.
Sabrina Chap is the Brooklyn-based cabaret performer, pianist and singer-songwriter whose work has seen her performances described as "the ballad lyrics of Tom Waits, the onstage antics of Phyllis Diller and the voice of a whiskey angel". Noted for her live shows, she has graced some of the biggest stages and the smallest bar-rooms in the world, including Cafe de Paris (London), Theatre Bizarre (Detroit), The Lowry (Manchester), Spiegeltent (NYC with Bindlestiff Cirkus) and most recently Reykjavik Kabarett (Iceland). Her two albums Oompa! and We Are The Parade have been met with both public and critical acclaim.
Magic Brian has been entertaining young and old with his unique brand of comedy-magic and sideshow for over 20 years and got his start in Comedy Clubs and variety shows in New York City. He has toured with the Bindlestiff Family Cirkus and has taken his show around the world, performing in 18 countries and more than 50 cities. He has appeared on the Late Show With David Letterman, VH1, Good Day New York and has performed at the Edinburgh and Adelaide Fringe Festivals and the Melbourne International Comedy Festival.
The Secret Variety Society Presents... Miss Ekaterina, Sabrina Chap and Magic Brian at the Slipper Room, New York City, Wednesday September 27 at 8pm.
Tickets are priced at $12 (advance sales), $15 (at the box office) and $20 (reserved table seating). The Slipper Room is located at 167 Orchard St., with the entrance on Stanton St. in the Lower East Side. There is no drink minimum. Slipperroom.com