Nelson Aspen to Debut at The Green Room 42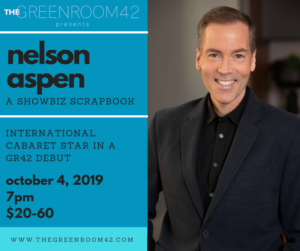 Veteran Entertainment Personality/Author Nelson Aspen makes his Green Room 42 cabaret debut with "A Showbiz Scrapbook," Friday, October 4, 2019, at 7pm.
Known to millions of international TV fans as their "One Degree of Separation" from Hollywood's A-list, Nelson Aspen returns to the cabaret stage after sold out runs in New York City, Los Angeles, Philadelphia, London's West End and around Australia including the world-famous Sydney Opera House. "A Showbiz Scrapbook" traces Aspen's unique career path with songs, stories and clips from his quarter century in television. Since 2003, Nelson has served as the Entertainment Editor for Australia's #1 Morning program, "Sunrise" and recently received his fourth nomination for the Publicists Guild International Media Journalist of the Year. "I've become the Susan Lucci of the category," he laughs as he waits for the win.
The interactive performance will also see him welcome a special Surprise Guest Star for a turn at the microphone. Past shows included appearances by renowned artists such as Anita Gillette, Shelly Burch, Deven Green, Monica Horan, Ilene Kristen, Carly Paoli and other stage/screen stars. You never know what famous faces might turn up onstage or in the audience when Nelson Aspen performs.
Tickets range from $20 to $60 and can be purchased at www.thegreenroom42.com Book seats for "A Showbiz Scrapbook" now, so you don't miss this special evening with the gentleman loved for decades as "Hollywood's Happiest TV Personality."