#NEVERAGAIN: A CONCERT TO END GUN VIOLENCE Comes To The Green Room 42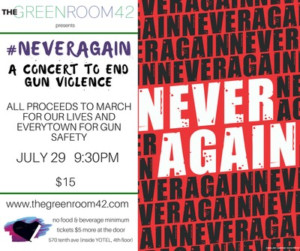 Williams Theatricals brings #NeverAgain: A Concert To End Gun Violence to The Green Room 42 on Sunday, July 29th at 9:30pm. Directed by Alyssa Williams and Jarvy O'Neill & Music Directed by Jon Nelson, #NeverAgain is being put together to raise awareness and hopefully prevent tragedies in the future as well as raise money for families who have lost someone to gun violence. Featuring music from Spring Awakening, In The Heights, and more. All proceeds raised at #NeverAgain will be donated to the organizations March For Our Lives and Everytown For Gun Safety.
The evening will be hosted by Eduardo Hernandez (On Your Feet!) and feature special performances by Erin Edelle (NETwork's Beauty and the Beast) Eduardo Hernandez, and Diamond Essence White (Dear Evan Hansen). Rounding out the company will be Fiore Barbini, Morgan Bartholick, Christian Bethea, Rachel Caduri, Samara Ehrlich, Annie Fitzgerald, Kyle Lemaire, Hannah MacDonald, Gina Morgigno, Jolie Rose, and Nik Sorocenski. *performers subject to change without notice
#NeverAgain: A Concert To End Gun Violence will performed at The Green Room 42 at Yotel (570 Tenth Avenue at 42nd Street, Fourth Floor). Tickets and information are at www.thegreenroom42.com.
Located in the heart of the theatre district, The Green Room 42 is Broadway's newest, most spacious, and funkiest entertainment hall. Featuring a wide variety of performances by your favorite Broadway stars, and a delicious menu of food and drink, our club opens the doors of hospitality to the small stage while providing you value. Plus, there's no F&B minimums -- so, stick around, relax; Your evening is already planned.