Michelle Beth Herman Takes The Stage In Her Solo Cabaret Debut with Special Guests from ALADDIN, A BRONX TALE, HAMILTON and THE GREAT COMET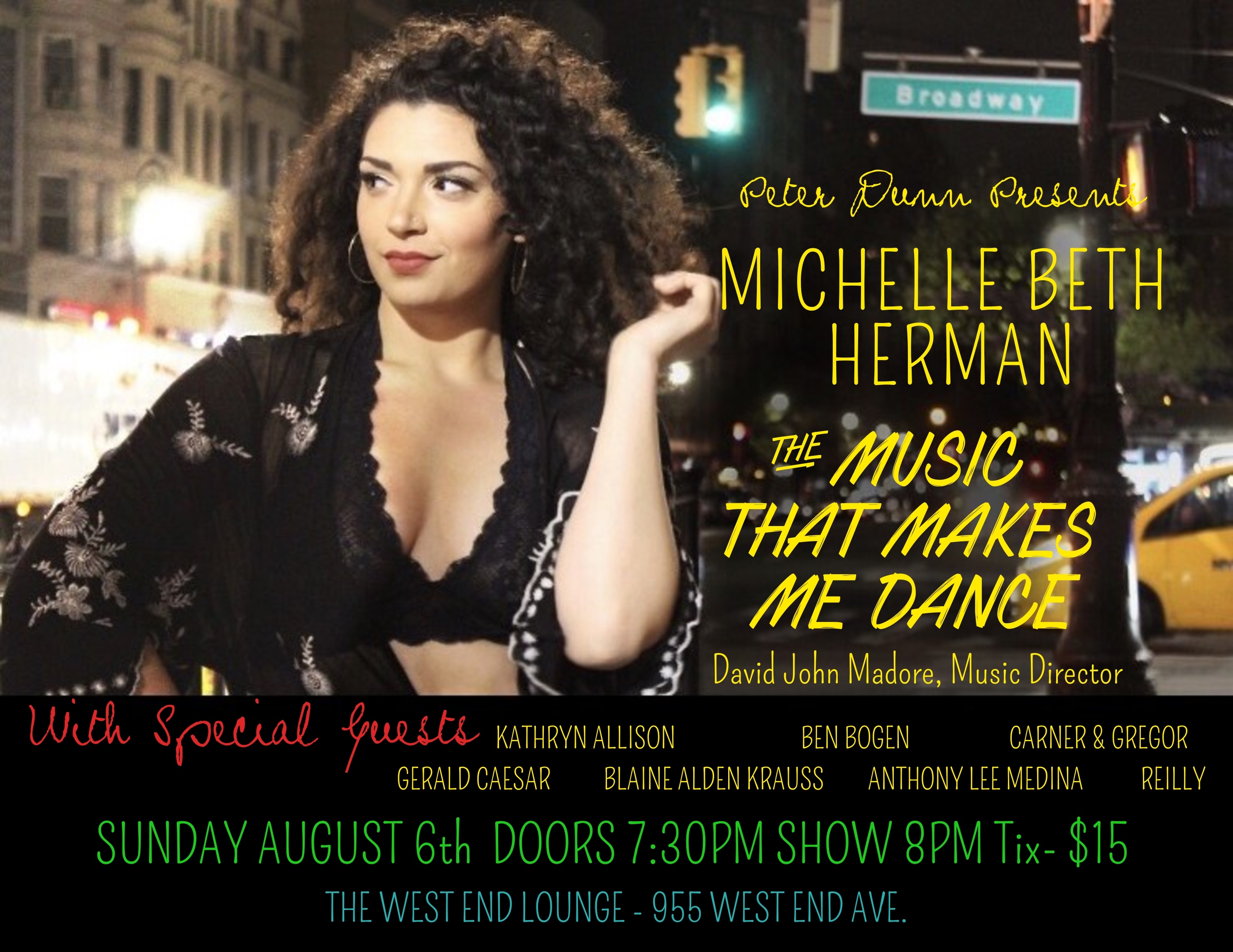 Michelle Beth Herman (IN THE HEIGHTS, TUTS) makes her New York solo cabaret debut, THE MUSIC THAT MAKES ME DANCE, August 6th at The West End Lounge at 8PM.
Ms. Herman, an accomplished songstress and composer, will be joined on stage by an amazing and talented group of her closest friends. "I am so excited for the journey that Michelle Beth Herman has in front of her and I am thrilled that after 3 years I get to be able to share the stage with her again!" says Kathryn Allison, who currently appears in Broadway's Aladdin.
In an evening filled with some familiar tunes, standards as you've never heard them before, as well as amazing new music from Carner & Gregor, David John Madore, Reilly and the premiere of a new song written by Herman and HAMILTON's Anthony Lee Medina, this is bound to be a very special night.
"From the first time I heard Michelle's voice, I knew that she was the definition of a rising star," says producer Peter Dunn. "Her belt can fill an amphitheater, as can her spirit, and I am so honored to have worked with her and can't wait to say I knew her when."
The Music That Makes Me Dance, will feature appearances by Kathryn Allison (Aladdin), Ben Bogen (Sousatska), Carner & Gregor, Gerald Caesar (A Bronx Tale), Blaine Alden Krauss (The Great Comet), Andrew Mayer (The Great Comet), Anthony Lee Medina (Hamilton), and Reilly. Produced by Peter Dunn, with music direction by David John Madore.
Additional information about The Music That Makes Me Dance
MTMMD Facebook Event Page: https://www.facebook.com/events/214632809062817/
Michelle Beth Herman Official Website: www.michellebethherman.com