Lena Hall to Celebrate OBSESSED Series with Concert at Rockwood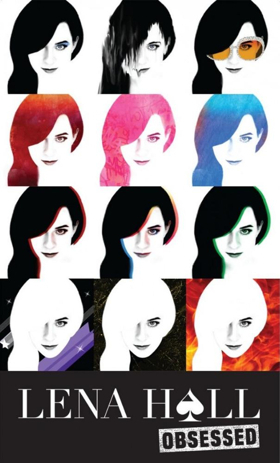 Tony Award winner and Grammy nominee Lena Hall will celebrate Obsessed - her groundbreaking new music and video series from SKB Records - with a New York performance at Rockwood Music Hall on Monday, April 22 at 7:00 PM. A singular artist who explosively and soulfully explores the music of rock and pop icons, Hall released a monthly series of EPs over the course of 2018. Obsessed consists of 12 EPs, each featuring stripped down, emotionally intensive covers of one artist or band with whom Lena is "obsessed." Performance music videos were created for all 54 songs in the series. The music is available at www.LenaHallObsessed.com, as well as all digital music and streaming providers. Tickets to the show are available here.
The new Obsessed Limited Edition Signed Lithograph is now available. For more information and to order prints, please visit the label here. Copies can also be purchased at Lena's upcoming concert.
Obsessed has been called "stirring" by Rolling Stone, "amazing and intimate" by Billboard, "fabulous" by Stereophile, "chilling" by The Huffington Post, "soaring and moving" by All Music Guide, and "superb" by Time Out New York. Previous EPs in the Obsessed series celebrated Hedwig and the Angry Inch, Peter Gabriel, Elton John, The Cranberries, P!nk, Radiohead, Jack White, David Bowie, Beck, Muse, Nirvana, and Chris Cornell. Obsessed is produced by Justin Craig, Lena Hall, and Kurt Deutsch.
The series features Justin Craig on guitar and keyboards; Matt Duncan on bass, keyboards and saxophone; and Brian Fishler on drums and percussion. The album cover is photographed by Melisa Hall and designed by Stephanie Layton. Each set of videos features a different outfit created by renowned designer Malan Breton. James Eades serves as Director of Photography.
In 2018, Lena received widespread critical acclaim for her performance of the title role in the feature film Becks, which won the U.S. Fiction Award at the LA Film Festival, and is currently available on iTunes and VOD. The New York Times called her the "charismatic, tone-perfect lead," with the Los Angeles Times adding, "Sexy and sexually frank, Becks works thanks to the musical talent and offbeat charms of its lead. Hall feels authentic at each moment."