Feinstein's/54 Below Presents Songs From Cult Classics, A Benefit for the ACLU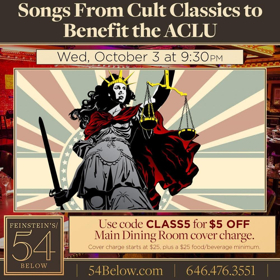 "Songs from Cult Classics to Benefit the ACLU" is returning to Feinstein's/54 Below for its second year! On Wednesday October 3rd at 9:30pm cult classic musical lovers will gather at Feinstein's/54 Below for a concert of songs from their favorite under-appreciated shows. Featuring a line up of Broadway performers and emerging artists, the evening will highlight songs revolving around the themes of oppression and hope. Proceeds will be donated to the ACLU.
Realizing how deeply rooted these themes are in cult classics and wanting to do some good in the world, Theresa Burns (director/performer), Jessica Hanson (associate director/performer), Stephanie Lourenco Viegas (producer), and Bruce Baumer (musical director/host) have come together to help raise money for an important organization while simultaneously providing an evening of unique entertainment.
From the director - "Every single day since last year's benefit concert, there has been a new disturbing policy or a terrifying piece of legislation or a continuation of horrifying negligence or acts of unthinkable cruelty to resist. The ACLU has remained vigilant. I sleep better at night knowing that they are fighting for and protecting our liberties, even when I am absolutely exhausted and feel like I cannot sustain my personal acts of resistance for any longer. Last year, we were able to raise over $700 for the ACLU by coming together to celebrate these incredible musicals with devoted cult followings. This year, we are hoping to continue the celebration and help out the ACLU even more."
Featuring Ari Aaron (Sweet Charity starring Laura Bell Bundy), Jen Anaya (Hatuey: Memory of Fire; One Thousand Nights and One Day; Tamar of the River), Kabir Berry, Theresa Burns (My Big Gay Italian Wedding), Noah Casner, Brad Giovane (The Great Comet), Jessica Hanson (Reefer Madness), Isabel Plana (Kerrigan and Lowdermilk's The Bad Years), Kris Roberts (Beautiful: The Carol King Musical), Eddie Rodriguez Jr. (Thomas Paine in Violence), Amalia Tollas, Stephen Velasquez (Addy and Uno), David Ventura (God Save Queen Pam), Stephanie Viegas (Frankenstein; Lilli Marlene, co-founder of Little Radicals Theatrics), and Christa Vrabel.
Audience members will be treated to tunes from Side Show, Carrie, Reefer Madness, The Rocky Horror Show, Heathers, Bat Boy, Urinetown, Bare, and more!
Brush up on your cult classic trivia and get ready to dance the Time Warp again!
"An Evening of Cult Classics to Benefit the ACLU" plays Feinstein's/54 Below (254 West 54th Street) on Wednesday October 3rd at 9:30pm. There is a $25 - $60 cover charge and $25 food and beverage minimum. Tickets and information are available at www.54Below.com. Tickets on the day of performance after 4:00 are only available by calling (646) 476-3551.
Feinstein's/54 Below, Broadway's Supper Club & Private Event Destination, is a performance venue in the grand tradition of New York City nightlife. A few blocks from the heart of Times Square and just below the legendary Studio 54, Feinstein's/54 Below is a classically designed state-of-the art nightclub in the theatre district that hosts audiences with warmth and style. Feinstein's/54 Below presents iconic and rising stars from the worlds of Broadway and popular music and has set a new standard for culinary excellence worthy of the world-class entertainment on the stage.
Located at 254 West 54th Street, Feinstein's/54 Below features up to three shows nightly with cover charges ranging from $5-$105. 54Below.com/Feinsteins