Chloé Perrier And The French Heart Jazz Band Comes to NYC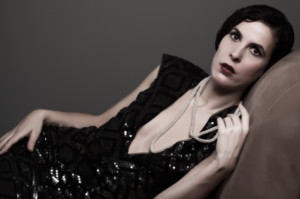 Go back to in time with the enchanting French singer Chloé Perrier (Brooklyn Resident) and her new band, the French Heart Jazz Band! The French Heart Jazz band is a mix of French chansons and American jazz standards from the '20s to the '40s with a continental flare! The group is known for its reinvention of the old chestnut "My Heart Belongs to Daddy" as a bolero-tinged Twin Peaks theme, an obscure '20s hot jazz tune that Perrier had found in a history book, and the classic "La Vie en Rose."
The French Heart Jazz band have been seen playing in notable venues in NYC such as: The Manderley at The McKittrick Hotel (Home of the famous show "Sleep No More"), Zinc Bar, Cornelia Street Cafe, The Top of the Standard Hotel (Boom Boom room), The Flatiron Room and many others. And they have a residency at Club Bonafide.
Chloe started acting, singing and playing the violin when she was a little girl, completing her studies at the Bill Evans Piano Academy in Paris. Chloe's great strength is her ability to connect with her audience using her clear voice, emotion and true artistic talent. Her repertoire spans all the great jazz standards, and includes bossa nova, French songs, and her own compositions. She transports us into her poetic and romantic universe.
Her first album "Coeur de Francaise" is a cheerful mix of famous French songs and her own compositions arranged with a Jazz rhythm backed by a piano and drums. Cathie Fichelle of Le 9 Jazz Club in Paris states, "this young singer with a clear voice offers us a nice mix of jazz and original songs with a lot of grace, poetry and a touch of humor accompanied by three wonderful musicians, indispensible accomplices..."
ListenSoundcloudSpotifyItunesDeezer
Shows in New YorkNovember 3rd at Club Bonafide (Jazz Club) 212 East 52th Street at 6pm.
November 5th at Benoit 60 West 55th Street, 2nd Floor, NY at 6pm.
November 9th at Club Bonafide (Jazz Club) 212 East 52th Street at 6pm.
Shows in Los AngelesNov 14 at Le Petit Paris Nov 16 at Edwin Mills by EquatorNov 18 at Seven Grand Nov 23rd at The Barclays
Photo Credit: Sonny Kahn