Broadway Sessions Welcomes University Of Alabama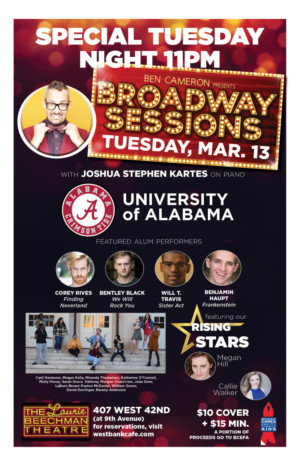 Broadway Sessions welcomes University of Alabama grads and alum, 3/13
BROADWAY SESSIONS is described as an evening of musical performances, games and open mic featuring a new Broadway guest each week. The show is created and hosted by Ben Cameron (Bway Wicked, Aida and Footloose) and features musical director Joshua Stephen Kartes on piano. This week, on a special Tuesday night, March 13th, Broadway Sessions welcomes the 2018 graduating MT class from the University of Alabama alongside successful Alabama alums.
Scheduled to perform are Corey Rives (Finding Neverland), Bentley Black (We Will Rock You), Will T. Travis (Sister Act) and Benjamin Haupt. '18 Alabama grads scheduled to perform include Carli Hardon, Megan Kelly, Miranda Therkelsen, Katehrine O'Conell, Molly Penny, Sarah Grace, Valleroy, Morgan Chare'cem, Jada Grier, LaBorn Brown, Peyton McDaniel, William Green, David Derringer, Naomy Ambroise. The evening will also feature performances by vocalists Megan Hill and Callie Walker.
Broadway Sessions takes place every Thursday evening at The Laurie Beechman Theater inside The West Bank Café located at 407 west 42nd street (corner of 42nd street and 9th avenue). Reservations strongly recommended at www.bencameron.nyc Doors open at 10pm for pre show open mic. Showtime at 11. $5 drink specials all night. $10 advance/ $15 at door cover includes a donation to Broadway Cares/Equity Fights Aids. Broadway Sessions is proud of it's collaboration with BroadwayWorld.com which offers an exclusive look at Broadway Sessions every Monday. Past performances can be viewed on Broadway Sessions YouTube channel, www.youtube.com/bwaysessions. www.BroadwaySessions.net.