Click Here for More Articles on NEW YORK CITY
BWW Review: gina Breedlove Welcomes You Home In Her Intimate, Vibrant Performance at Joe's Pub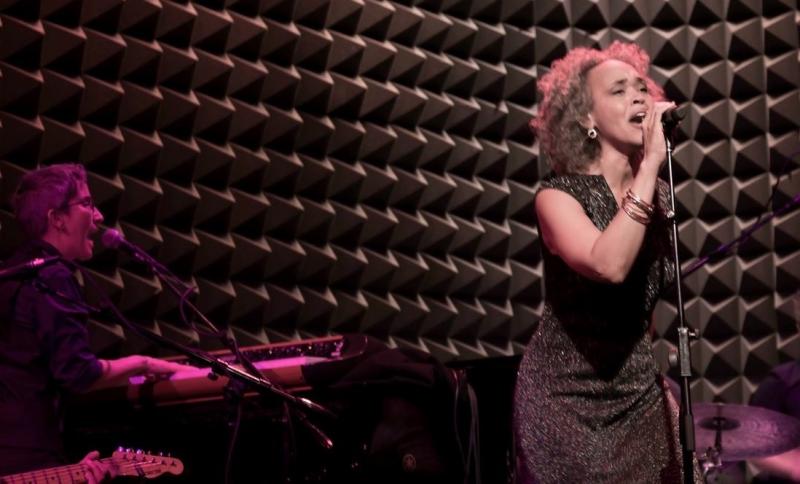 As singer-songwriter gina Breedlove took the stage at Joe's Pub, an audience member exclaimed, "Welcome home, gina." This roused a warm applause and a chorus of audiences members verbally welcoming the Brooklyn native home to the venue.
Breedlove's musical style is a coalescence of the gospel, soul, and R&B sounds she has had contact with throughout her career. She began performing at age 15, singing backup for the Phyllis Hyman. Breedlove has since toured with artists who, like herself, define and redefine genre, such as Harry Belafonte, Ronny Jordan, Ani DiFranco, Craig Harris, and Sekou Sundiata.
Her live performance takes audiences on an intimate musical journey, poetically combining soul and folk music with storytelling. This hybrid performance style is how Breedlove earned the titles "Soul Healer" and "Medicine Woman." She has developed a cross-genre musical style that seeks travel between physical and spiritual realms, and transform energy. And her voice is an important element in creating this musical aura. Breedlove's vocal resonance has been likened to "Minnie Riperton & Dianne Reeves having a prayer circle."
At Joe's Pub, Breedlove shared work from her two full-length albums, LANGUAGE OF LIGHT and OPEN HEART. She also previewed the song "Real Angels" from her upcoming album THE STAR (due out December 2017). Her eclectic accompaniment included Julie Wolf (piano), Shelley Doty (guitar), Fred Cash (bass), Daniel Sadownick (percussion), Rocky Bryant (drums), and Jonathan Breedlove (additional vocals). These musicians contributed extensive solos, adding variety to the arrangement of Breedlove's vocal work. The live musicianship is stunning and stylistic, and the musicians amplified the mood of the lyrics with powerful instrumental sections. This is what sets Breedlove's live performance apart from her studio recordings.
Over the course of the evening, Breedlove addresses the audience as "family," sharing memories of Brooklyn and explaining her relocation to California. She tells stories about her childhood friends and shouts out her star-studded musical collaborators, all of whom are in the audience. Breedlove's vulnerability in these narratives sets the emotional tempo in the room. It was difficult to not feel excited, joyful, and hopeful under her spell. Her performances of "Copperwoman," "The Healers" and "Conjure" from the LANGUAGE OF LIGHT album underscore this experience of diving deep into emotion. Her live performance creates an atmosphere of polished and sensual grooves and is successful in creating an out-of-body musical experience.
Breedlove's lyrics are meaningful and necessary in the current state of the world. In her performance of "Touch" from the OPEN HEART album, the artist asks audiences to reflect on interpersonal connections. She sings, "You just got to touch somebody you love / Touch your neighbor's hand / Touch that child's life / Touch somebody in need / Touch to stop the bleeding / Touch." Breedlove is comfortable and unapologetic in raising questions about the state of humanity in her show without being pushy or preachy. Instead, her performance feels sincere and loving, like having a heart-to-heart conversation with a longtime friend.
It would be exciting for Breedlove to record a live concert album. Her stage presence is mesmerizing, and her connections to the audience, to her musicians, and to her narratives create a magical experience for audiences. A live recorded concert would allow larger audiences to witness the vibrant performance she generously gave at Joe's Pub.
But if Breedlove's performance at Joe's is any indication of the work she is planning to release at the end of 2017, then audiences are in for a treat. She should continue to create art that is anchored in love, vulnerability, and storytelling. This is her area of artistic strength. It is the place she thrives in aesthetically, and when she taps into her soul power, audiences respond enthusiastically.
---
Jamara Wakefield is a performing arts and culture writer based in New York City. Follow her on Twitter @JamaraNYC.