Click Here for More Articles on NEW YORK CITY
BWW Review: Lady Rizo Embraces the Feminine Divine in LADY, LADY, LADY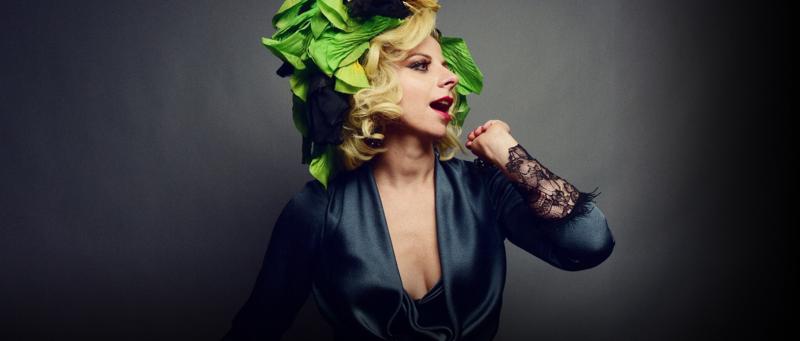 While Lady Rizo is bidding New York a (temporary) adieu, her latest show, LADY, LADY, LADY, proved she's determined to make the city miss her every single second she's away.
In fact, she's barely been back at all, fresh from what she dubbed her "International Apology Tour," given the current state of things. The star chose a rendition of Aretha Franklin's "Rock Steady" to set the tone at Joe's Pub on September 5, mashed up with Lauryn Hill's "Everything Is Everything" (Hill/Johari Newton) and just an ill-advised dash of Salt-N-Pepa's "Shoop" (Sandra Denton/Cheryl James). Afterward, Lady Rizo also remarked that, like Aretha, she wanted a quartet of costumes at her funeral, managing to work in a few costume changes of her own throughout the proceedings.
LADY, LADY, LADY, she said, is dedicated to songs penned by women, in a bid to embrace "the feminine divine in order to heal the world." With an endless supply of vagina euphemisms in her arsenal, her seriousness on the subject matter vacillated moment to moment. "It's been a hard road for women. We only recently got pockets," she cracked in the show's opening moments. At other times, however, it was clear that this was more than lip service. In its most sincere moments, "healing" really is the best word to describe LADY, LADY, LADY.
Rizo was also quick to point out that she'd rounded up an all-female band for the night, including Shirazette Tinnin on drums, Viva De Concini on guitar, Lucy Moulton on percussion and vocals, Endea Owens on bass, and musical director Stephanie Sanders on piano.
What began as a baby pink arrangement of Édith Piaf's classic "La Vie en Rose" over the instrumental to Janelle Monae's "Pynk" exploded into fuschia as she transitioned into Monae's lyrics. Afterward, the show took a turn from bombastic to full-out frenzied, as Lady Rizo ceded control to Amber Martin (Adelaide Cabaret Festival) while she stepped offstage for one of those aforementioned costume changes. Martin who didn't just burn the barn, she razed a few acres with her performance of Janis Joplin's "Mercedes Benz" (Janis Joplin, Michael McClure & Bob Neuwirth), guided by nothing but a drumbeat and the deafening stomps and claps of the crowd, and her performance of Joplin's "Move Over" was no less explosive.
When she returned in a new costume, Lady Rizo began to sing Portishead's "Glory Box" (Portishead/Isaac Hayes). Between verses, she made unwavering eye contact with one audience member, beginning a tantric striptease with a single glove, climaxing in a glitter explosion. She clearly wasn't kidding earlier in the show when she said she described her upbringing in an intentional living community by saying she was "raised by mimes and trust falls," because her mime work wasn't done just yet (and there were plenty of emotional trust falls to follow).
Pulling off her other glove to reveal a red glove underneath, she shoved it in her mouth, letting it slowly bloom like a rose until she removed not just the glove from between her lips but a miniature American flag as well. Launching back into the chorus, her meaning behind the words "give it became me a reason to love you" became abundantly clear.
Further guests were deployed at the perfect moments. If Martin entered to strike the match, Mireya Ramos joined in to blow it out, her intricate violin work proving the perfect sorbet between courses. And when she began singing Consuelo Velazquez's "Besame Mucho," it became clear the slight trepidation she expressed about following up two such bombastic acts was wholly unnecessary. Ramos, a member of New York's self-proclaimed first all-female mariachi group, Flor de Toloache, was simply painting with a different color on the creative palate.
Taking back the reins---in yet another ensemble, no less---Lady Rizo launched into a saga involving an Alaskan cruise line, a cheating ex-Mormon and her first relationship with a woman that was so engrossing, by the time she began to sing an original song, "Dominika," I'd long forgotten that she was even setting the song in the first place, but only in the best of ways.
Martin also returned to the stage, and the pair competed in an extend battle of off-kilter Reba McEntire impressions that was as hysterical as it was bizarre. That turned out to be a misdirect, with the duo instead singing a mash-up of Fleetwood Mac's "The Chain" and Adele's "Send My Love (To Your New Lover)."
In the show's closing moments, Lady Rizo also confirmed what she'd teased earlier on: after just one more show, she'd be gone from New York for months. As for those metaphorical trust falls, she expressed a desire for women to feel safe again, calling on the men in the room to pledge to be their allies. Capping things off, she sang another original, "Song of Freedom," bringing the audience to their feet in solidarity before releasing them back out into the world. Her absence will certainly be felt while she's away, but it seems there are miles to go on her "International Apology Tour" before she sleeps.
---
Lady Rizo returns to Joe's Pub on October 9 for GOODBYE GIRL. For tickets and information, visit www.publictheater.org.
Troy Frisby is an entertainment writer and digital news producer based in New York. Follow him on Twitter @TroyFrisby.
Related Articles
Troy Frisby is a writer and producer for Zazoom Media Group, producing entertainment and news video content for clients including AOL and MSN. Previously, he (read more...)