Click Here for More Articles on NEW YORK CITY
BWW Review: BROADWAY BY THE YEAR Illuminates the Timeless Relationship Between Art and Culture, Paying Tribute to the 1940s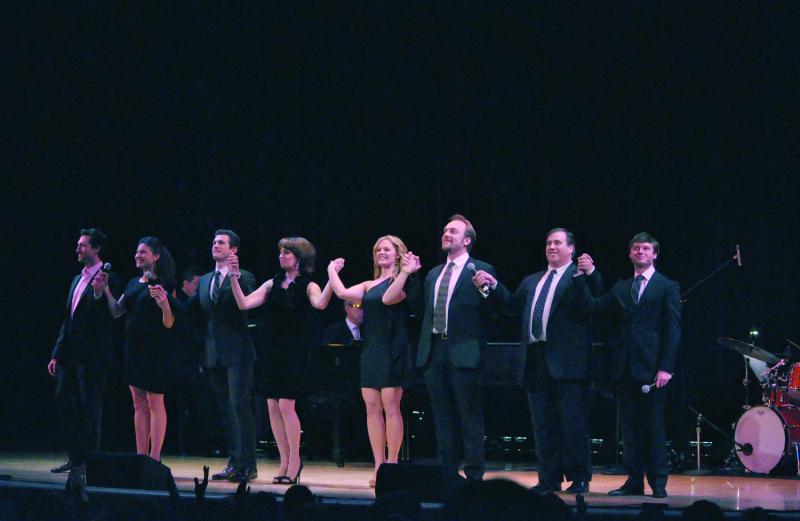 At the most recent BROADWAY BY THE YEAR presentation on March 27, at its usual home of the Town Hall, the 1940s was the sent-up decade from which the evening's performers sang. At a time in the country that currently bears striking and cryptic similarity to that grim period of global history, the resonance of the evening's selections rang eerily. Additionally, they also demonstrated how little the relationship between culture and society has changed over the last seven decades.
As has become expected from the BROADWAY BY THE YEAR series (created, written, directed, and hosted by Scott Siegel) each performer was top-tier and given ample opportunity to shine, with selections too numerous to list in full.
Now, what theater today has most in common with the theater of yesteryear is, though it is in many ways meant to hold a mirror up to society, that intent is not mutually exclusive in providing escapism through art. As is the case with the best musical theater songwriting, though, the evening's first selection exemplified the notion far better than plain prose can.
OKLAHOMA!, the first-ever musical written by the duo of Oscar Hammerstein II and Richard Rodgers, was the first true "book musical," meaning the songs and dance are fully integrated into the story (a rule which is still intact today). It also arrived on Broadway in 1943, at the height of the War. Its opening song "Oh, What a Beautiful Mornin'," was somewhat of an antacid to that volatile period. It was sung at this convert precisely as it's meant to be heard, with the fervent baritone (and dashing good looks, though those are less necessary) of Ben Davis.
Another musical that, somewhat unfortunately, has been given new relevance in this backwards political era is 1947's FINIAN'S RAINBOW, which received a New York City revival at the Irish Rep just this year and which actually depicts a principal character being magically transformed from white to black. Its score, though, similar to the conscious whimsy of OKLAHOMA!, is less pointed. Its shining gem, "How Are Things in Glocca Morra?" is sung in-show by its dewy ingénue, but was given an intensified poignancy in this capacity, performed by the legendary Tony Award winner Karen Ziemba (CONTACT). Featuring the title refrain, the tune still has one of the most melodically undulant choruses of any musical theater song and Ziemba did it soaring justice.
Both selections by Davis and Ziemba rendered as necessarily in the audience this evening as they likely did for those back in the century prior, with their intent as crystalline: not to cover up the world's atrocities, but derived with the omni-awareness of their occurrence, and the need to continue on in the face of them.
The night's first true-blue showstopper resulted from a confluence of song and dance, the former by KLea Blackhurst and the latter by KendRick Jones. Performing "Taking a Chance on Love" from CABIN IN THE SKY, written at the very start of the decade in 1940, the smooth yet bouncy tune had everything an audience could hope for in a mere three-minute performance: stellar vocals from Blackhurst accompanied by truly jaw-dropping tap from Jones (unsurprisingly, he recently starred in Broadway's tap-spectacular SHUFFLE ALONG).
The number also exemplified what it is that the BY THE YEAR series does so well--- specifically, isolate great songs that may or may not have remained prominent on their own, and give them new vitality.
That showstopper was succeeded quickly by another, courtesy of KISS ME, KATE, which arrived on Broadway late in the decade in 1948 and was therefore somewhat less keen. The Olivier Award-winning Lesli Margherita took on "I Hate Men," a song performed in the show by its fiery female protagonist that is as hilarious as it is face-scrunchingly bitter. Margherita, best known on this side of the pond for originating the role of Mrs. Wormwood in Broadway's MATILDA, was perfectly suited for the tune, getting a laugh before she even opened her mouth to sing with a mere cock of her brow.
Consummate and wonderful Daniel Reichard was quick to win the audience over atop the second act with "Almost Like Being in Love," a song from 1947's BRIGADOON, which was one of many from the era that went on to have illustrious life outside of the theater. Reichard, with an enviable croon and ever-suave stage presence, performed the song classically, which further exemplified its timelessness as a standard both in and outside of a plot.
Though Margherita and Reichard's tunes could not have been more disparate in their content, tempo, and style, they, too, demonstrated another purpose of BY THE YEAR. This format gives artists working today a chance to take material from nearly a century prior, and perform it in the way they see fit. That may mean a modernized subtext, or it may be a more textbook approach. Regardless, it enables an artist to thoroughly examine and immerse themselves in bygone material, putting audiences there with them.
And speaking of a unique approach to vintage texts, SOUTH PACIFIC was paid tribute more than once throughout the show. The most notable take on the oft-performed Rodgers and Hammerstein classic, though, must be credited to Steve "The Whistler" Herbst. As that moniker suggests, he executed one of the show's most lush songs, "Some Enchanted Evening," entirely with whistle. Another unconventional performance was delivered through the dance team of Heather & Lou, performing a highly impressive, all-dance interpretation of PAL JOEY's "I Could Write a Book."
The evening ended, fittingly, with an all-company rendition of ANNIE GET YOUR GUN's "There's No Business Like Show Business." It was true immediately following World War II and it remains true in the midst of whatever history books will refer to this period we're in now. No matter what is occurring in the world, there is nothing quite like theater to ease the pain--- and if we're very lucky, it'll be bombastic enough to help us for one fleeting second even forget about it.
---
The next BROADWAY BY THE YEAR will celebrate musicals from 1997 to 2006, and feature the work of Stephen Sondheim, Frank Wildhorn and others. The show takes place on May 22, 2017, 8PM, at Town Hall. For tickets and information, visit ticketmaster.com.
Casey Mink is BroadwayWorld's Chief New York Cabaret Critic and is an entertainment journalist in New York City, focusing on the performing arts. Follow her on Twitter @Casey_Mink.