Click Here for More Articles on NEW YORK CITY
BWW Review: Alexis Michelle Is Good, Girl, In IT TAKES A WOMAN at Feinstein's/54 Below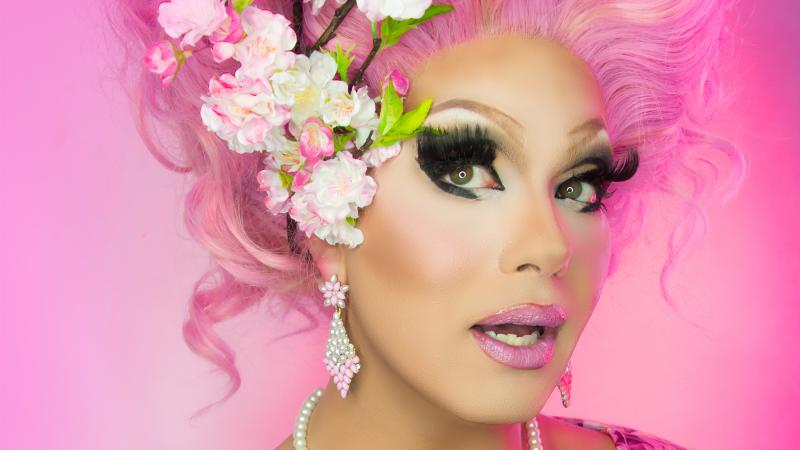 From just about the moment Alexis Michelle walked into the workroom, the RUPAUL'S DRAG RACE contestant was clocked as a Broadway queen. While performing at Feinstein's/54 Below in IT TAKES A WOMAN with her rich, husky singing voice, that proved to be a well-earned title.
But, as seen on TV, comedy seems to come a bit harder for Michelle. Well, don't blame it entirely on the edit, because that duality took center stage at the May 16 show, her solo debut at the venue.
It was clear right from the jump, as she began her clever take on "It Takes a Woman" (Jerry Herman) from HELLO, DOLLY! near the back of the room. Attempts to interact with the crowd as she paused between verses landed like cruise ship comedy, with bits like, "Is that your husband?... Yes? You didn't even wince when you said that."
It was lighthearted enough, but it was when the number came to an end that things took a hard left turn. Telling the audience about her days of sneaking into the famed downtown piano bar Marie's Crisis while underage, the star detailed a chance meeting there with a cute guy. Playing into her good-girl image, Michelle then revealed she decided to escort him home after they closed down the place. You know, out of the kindness of her heart.
That's where the queen seemed to lose the narrative thread, jumping ahead to giving him a massage and ending with an insult about the guy's goods as a way of explaining why she didn't want to "bleep" him. (Yes, she said "bleep." Willam Belli, she is not.) It was just less of a story and more of a perplexing anecdote with few jokes and a not-so-happy ending, and when the crowd reacted in turn, Michelle kicked off the next song by half-joking, "Now that I've alienated a third or two of this audience..."
That's not a read on Michelle as a performer. She's never more confident than when she's belting out a Broadway tune, and she's a versatile singer, too. In fact, she was absolutely electric during a cover of Jess Glynne's "Hold My Hand," with the crowd enthusiastically clapping along.
For every awkward transition in between numbers, while singing them, Michelle proved capable of seamlessly mashing up songs that shouldn't necessarily work, accompanied by musical director Brandon James Gwinn on piano, Jeff Koch playing bass, and Josh Samuels on drums.
An ode to Barbra Streisand involving "Cry Me a River" (Arthur Hamilton), "Who's Afraid of the Big Bad Wolf" (Frank Churchill), "I Stayed Too Long at the Fair" (Billy Barnes) and "Second Hand Rose" (James F. Hanley) could have been a tonal catastrophe, but it was one of the night's most memorable performances.
And the comedy wasn't all bad, either. A snippet of her challenge-winning Liza impression from DRAG RACE's "Snatch Game" episode hit so hard, part of me wondered why she didn't keep it going for the rest of the show.
Throughout the night, Michelle gave off a bit of an "early Hermione Granger" vibe, and it would be fun to see her really lean into it, like when she jokingly referred to the legendary Lea Salonga---who'd performed earlier that evening---as her "opening act." Although it seemed to border on sacrilege for the crowd, it was a solid enough joke and, more importantly, one she was in on.
That wasn't as apparent, however, when Michelle was cracking groaners throughout the night about her (fictional) time as a sex worker. Audiences can sense disingenuousness, and when you're known for being kind of an uptight theater queen, those jokes simply aren't going to work.
And, man, they really didn't. After the final joke on the subject failed to land, she even said, "You know I'm joking, right?" (It's telling that her co-star Peppermint's "Mm-hmm" response from the audience drew one of the heartiest laughs from the crowd all night.)
It took a little time, but the second half of the show felt far more cohesive, with a set list designed to make the crowd forget about the world outside that room. Her uptempo rendition of Lady Gaga's "Come to Mama" (Josh Tillman/Stefani Germanotta/Emile Haynie) was delightful, with the star and Gwinn harmonizing beautifully. Wonderfully, it was topped off with the "Don't dream it / Be" refrain from THE ROCKY HORROR SHOW and paired with a similarly upbeat take on Carole King's "Beautiful."
Still, nothing could compare to her on-brand performance of the CABARET showstopper "Maybe This Time" (Kander/Ebb). The number dialed her relentless spirit all the way up and showed exactly why she's such a fierce reality show competitor. Luckily, the rest of the show held on to that momentum, continuing with everything from "Thank You for Being a Friend"---better known as the GOLDEN GIRLS theme song---to her closer, a performance of "The Ladies Who Lunch" (Stephen Sondheim) worth drinking to. Driving home the importance of adding "activist" to her job title, Michelle connected it all with a genuine speech about living her dream against the current political backdrop.
That speech tied in well with the starry-eyed cover of "If You Knew My Story" (Steve Martin/Edie Brickell) from BRIGHT STAR, which she sang just before the encore. Thanking the crowd for listening to her tell some of her story, Michelle cracked, "Maybe more than some of you would've liked." It's a good story, girl. It might just need a few edits.
---
Alexis Michelle returns to Feinstein's/54 Below in IT TAKES A WOMAN on June 13. For tickets and information, visit www.54below.com.
Troy Frisby is an entertainment writer and digital news producer based in New York. Follow him on Twitter @TroyFrisby.