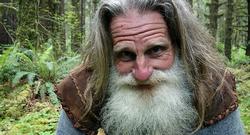 25 years ago, Mick Dodge walked away from the modern world, leaving civilization behind to live alongside nature's wonders in the Olympic Peninsula. Following a primal instinct present throughout generations of his family, Mick ventured deep into the Hoh Rainforest, making his home in the trees and hidden in the moss. Experience the wild life of Mick Dodge, a quirky character whose unique brand of Zen comes from living by his own code
National Geographic Channels Announce Annual Holiday Marathons
by TV News Desk - December 22, 2014
To keep your days merry and bright, this holiday season National Geographic Channels marathons pack a bite. From claws to jaws, brains to chains, holidays with Nat Geo on your TV set you won't soon regret. With 140 hours of marathon shows, your family and friends are sure not to oppose!...
BWW Crash Course: Your Study Guide to the Tony Nominated Musicals
by Matt Tamanini - June 03, 2014
Look, we get it, whether due to budget or geography, you didn't see every show of the Broadway season, but that doesn't mean you can't be fully up-to-date for this Sunday's Tony Awards. To help get you prepared for theatre's biggest night, BroadwayWorld has put together the ultimate Tonys Crash Cour...