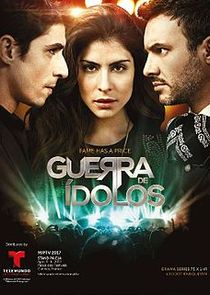 Guerra de Idolos (War of Idols) is an American telenovela created Mariano Calasso for Telemundo. This series is taped in Mexico and It is the first musical telenovela on Telemundo that will play the genre of Northern Music. This series follows the story of the Solar family, and superstar Julio Cesar Solar, a regional Mexican music idol. A story of betrayal, rivalry, love and the search for fame at any cost. Set in a world of stunning ranches, parties, private jets and recording studios, "War of Idols" showcases the lives of those who manage and control the Latin music business in the US from coast to coast.
- Source
TVMaze
Nicky Jam, Enrique Iglesias Top Winners at Telemundo's BILLBOARD LATIN MUSIC AWARDS
by TV News Desk - April 28, 2017
The stars were out tonight as Telemundo presented the 2017 BILLBOARD LATIN MUSIC AWARDSto a worldwide audience featuring an unforgettable show, from the glamorous fashion display of TV and music celebrities on the red carpet, to mesmerizing performances, surprise collaborations, world premieres and ...
Soundtrack to Telemundo's GUERRA DE IDOLOS Now Available on All Platforms
by TV News Desk - April 24, 2017
The original soundtrack from "Guerra de Ídolos," the first scripted drama music series in U.S. Spanish-language television, which premieres tonight with a special two hour episode at 8pm/7c, is now available on the most important digital music platforms including iTunes, Spotify, Google Play, Pandor...
Telemundo Begins Production of First Original Music Series GUERRA DE IDOLOS
by TV News Desk - December 06, 2016
TELEMUNDO announced the production kick off of its new production 'GUERRA DE IDOLOS(War of Idols)," the network's first original musical series, which will show a deeper look into the struggle in front of and behind the camera of those who manage and control the music business....