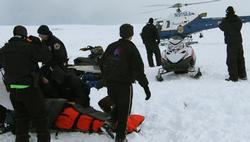 Follow one of the toughest law enforcement agencies in the nation, patrolling alone on unforgiving terrains. Responding by land, air, and sea
Latest Tweets from NatGeoChannel
8/4 @ 2:00 PM

NatGeoChannel - The longest living shark species we know of, Greenland Sharks are found in colder waters around Canada, Iceland, an… https://t.co/pd8XogazMa

Retweet | Reply | Original Link
8/4 @ 9:23 AM

NatGeoChannel - NASA astronauts Doug Hurley and Bob Behnken have splashed down in the Gulf of Mexico after becoming the first peopl… https://t.co/XF3sOgnpsQ

Retweet | Reply | Original Link
8/3 @ 2:00 PM

NatGeoChannel - #Sharkfest host @Kenny_Mayne breaks down a nail-biting matchup between a hammerhead shark and a stingray. https://t.co/EK1mVJN2Um

Retweet | Reply | Original Link
8/3 @ 11:58 AM

NatGeoChannel - #TheLastIce tells the story of the Inuit communities fighting to protect a rapidly changing Arctic that has been th… https://t.co/gDb3Khkir5

Retweet | Reply | Original Link
8/3 @ 10:47 AM

NatGeoChannel - 'Blood on the Wall' Trailer: 'Restrepo' Team Uncovers Murder and Corruption in Central America https://t.co/UkhPlmtZ3W via @indiewire

Retweet | Reply | Original Link
Latest Articles About Alaska State Troopers on National Geographic Channel
Justice Network's John Walsh Streamlines Back-to-School Safety
by TV News Desk - August 11, 2015
John Walsh, spokesperson and on-air talent for the Justice Network, is giving parents peace of mind and kids a boost of confidence with six back-to-school safety tips courtesy of the National Center for Missing & Exploited Children (NCMEC)....
ALASKA STATE TROOPERS Season 5 to Premiere 9/15
by TV News Desk - August 14, 2013
The Alaska State Troopers' call of duty may not always be headline news. But this past spring, the death of the most storied rescue pilot in Alaska's history and his colleague during a helicopter search and rescue mission rocked the force. It's a chilling reminder of the real danger the troopers fac...