Wendy Jo Carlton to Produce Feature GOOD KISSER in Seattle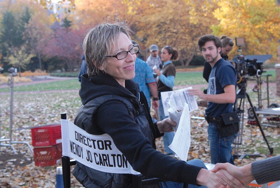 A maker of independent, female-oriented queer movies for two decades, award-winning writer/director Wendy Jo Carlton is prepping to shoot her next feature in Seattle entitled, Good Kisser. Casting is currently underway.
A story of an awkward love triangle between three women on the night they plan to sleep together, Good Kisser promises to be erotic and awkwardly amusing.
Often working under micro-budget constraints, Carlton previously directed the lesbian drama, Hannah Free (starring Emmy-winner Sharon Gless of Queer As Folk fame), the first lesbian musical romance, Jamie and Jessie are Not Together, and two seasons of the award-winning lesbian dramedy series, Easy Abby.
Carlton has also had short films in festivals around the globe, including The American Film Institute, Sundance, SIFF, and Outfest.
Production of Good Kisser is set for early September in and around Seattle. Look for exciting casting and soundtrack announcements soon.