Vertical Entertainment Acquires North American Rights to THE OPERATIVE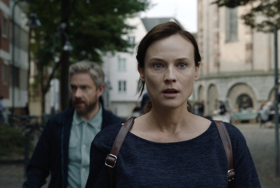 Vertical Entertainment has acquired North American rights to spy thriller THE OPERATIVE starring Diane Kruger, Martin Freeman, and Cas Anvar. The release is planned for Q3 2019. Endeavor Content is handling international distribution rights.
When Rachel (Diane Kruger), a rogue spy from Israel's feared national intelligence force Mossad, vanishes without a trace, the only clue to her whereabouts is a cryptic phone call she places to her former handler Thomas (Martin Freeman). With Rachel's life immersed in her assignments as part of a vast espionage effort against Iran's nuclear program, Thomas must retrace her steps to determine what threats she may now
POSE
to their operation, while also working to protect her. The deal was negotiated by Peter Jarowey and Josh Spector at Vertical with Endeavor Content on behalf of the filmmakers. THE OPERATIVE was written and directed by Yuval Adler, based on the novel THE ENGLISH TEACHER by Yiftach Reicher Atir; produced by Eitan Mansuri , Anne Carey, Jonathan Doweck, Viola Fügen, Michael Weber, Jean Labadie and Yuval Adler; co-produced by Michel Merkt, Meike Savarin, Dietmar Güntsche, Martin Rohé, Jamal Zeinal-Zade, Dan Wechsler and Jim Stark; executive produced by Teddy Schwarzman, Ben Stillman, Michael Heimler, Amy Nauiokas, Ephraim Gildor and Avi Nir; cinematography by Kolja Brandt; editing by Hansjörg Weißbrich, production design by Yoel Herzberg, and music composed by Haim Frank Ilfman. The film is a Black Bear Pictures presentation of aMatch Factory Productions, Spiro Films, Le Pacte, Archer Gray Productions and Mountain Trail Films production and co-produced by KNM, Neue Bioskop Film, Bord Cadre Films and Little Shark Entertainment Kruger is repped by UTA, Untitled Entertainment and Narrative PR. Freeman is repped by UTA and Premier PR. Anvar is repped by Glenn Talent Management.
Related Articles
View More TV

Stories