ULTIMATE BEASTMASTER A Bigger, Badder Beast Returns on Netflix for Season 3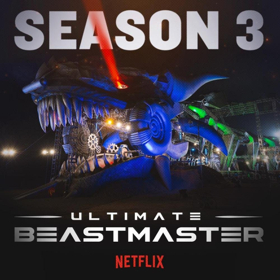 The third season of Ultimate Beastmaster Season is a nine-episode event series that features over 100 competitors from nine countries. Those countries include: U.S., U.K., Australia, Germany, Brazil, Italy, France, South Korea and Mexico.
Each episode, competitors will take their shot at running one of the most physically demanding obstacle courses ever devised, "The Beast." At the end of each episode, a 'Beastmaster' will be crowned and in the final episode of the season, the nine individual winners from each episode will compete against each other for the chance for one contestant to become the Ultimate Beastmaster. Dave Broome, Sylvester Stallone, Yong Yam and Kevin-King-Templeton serve as executive producers on the series. Ultimate Beastmaster is produced by 25/7 Productions and Dave Broome for Netflix.
All nine episodes of the series will launch globally, exclusively on Netflix later in 2018.
New Hosts:
U.S.: CM Punk (Mixed Martial Arts Fighter and WWE Champion)
CM Punk (Former Pro Wrestler & UFC fighter)
U.K.: Stun Bennett (Professional Wrestler and Actor) and Kate Abdo (Sports Journalist)
Stu Bennett (Former WWE Wrestler & Actor)
Australia: Dannii Minogue (Singer, Actress & TV Personality) and Nick Cummins (Former Rugby International now Media Personality)
Germany: Micky Beisenherz (Radio and Television Host) and Jeannine Michaelsen (TV host and Actress)
Returning Hosts:
U.S.: Tiki Barber (Former NFL Player and Sports Commentator)
Brazil: Anderson Silva (Mixed Martial Arts Fighter) and Rafinha Bastos (Comedian)
Rafinha Bastos (Comedian and TV Personality)
Italy: Francesco Facchinetti aka DJ Francesco (Italian DJ, Producer, Singer and TV Presenter) and BIANCA Balti (Supermodel)
France: Gilles Marini (Actor) and Sandy Heribert (Sports Journalist)
South Korea: Kyung Suk Su (Actor, comedian and TV host) and Katy Park (Kyeong Rim Park) (Actress, Comedian and TV host)
Mexico: Ines Sainz (Sports Journalist) and Luis Ernesto Franco (Actor)