Travel Channel's BOOZE TRAVELER With Jack Maxwell Returns 12/18/17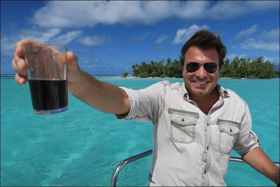 Get ready for a shot of adventure and a chaser of fun when cocktail connoisseur Jack Maxwell returns for the new season of "Booze Traveler" on Monday, December 18 at 11 p.m. ET/PT. On his all-new global cocktail crawl, Maxwell soaks up some of the world's most exotic drinks and striking destinations, starting in tropical paradise, Tahiti. During the season, he heads to Scandinavia to explore the magical origins of the "mead of poetry" drink that, as Viking legend has it, turns those who drink it into a poet and scholar. And, he gets to share a pint with a Robin Hood impersonator in England's Sherwood Forest. Throughout the 16-episode season, Maxwell will also visit Arizona, the Caribbean, Chile, Costa Rica, Czech Republic, France, Italy, Michigan, Taiwan, New England, New Mexico, the Pacific Northwest, the Rocky Mountains and more.
"Cheers to more fascinating escapades with new friends, while toasting long-held traditions in some of the most breathtaking places on the planet!" "said Maxwell. "My wonderfully enlightening international, cultural adventures always include a reason to celebrate. It's the same everywhere around the world."
The season opens on the pristine shores of Tahiti, where Maxwell immerses himself in the culture of the island paradise and has an authentic tamure dream - a drink aptly named for a traditional Tahitian dance, made with over 7,000 orange peels and freshly harvested sugar cane. Maxwell also shares a beer with pearl divers after gathering some of the world's rarest pearls, learns the secrets of harvesting vanilla and tastes both brut d'ananas -- a sweet and refreshing pineapple champagne, and pia uru -- a favorite local beer brewed from breadfruit.
Fill up on more "Booze Traveler" on TravelChannel.com for special show extras including slide shows, exclusive video and more. Follow @TravelChannel and #BoozeTraveler for more exclusive content and updates. Follow host Jack Maxwell on Twitter: @southiejack and on Instagram:@southiejack
Related Articles View More TV

Stories
More Hot Stories For You