SundanceTV Releases First Look of Rosamund Pike and Chris O'Dowd in STATE OF THE UNION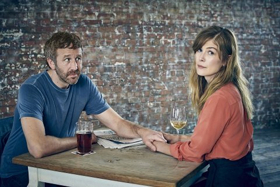 Endeavor Content, the scripted television and feature film financing, development and sales division of Endeavor (formerly WME I IMG), will launch international sales at MIPCOM on See-Saw Films' short-form comedy series 'State of the Union' directed by Academy Award(R)-nominated, BAFTA and Emmy-winner Stephen Frears' (A Very English Scandal, Philomena), written by Academy Award(R)-nominated and BAFTA-winning writer Nick Hornby (Brooklyn, An Education) and starring Academy Award(R) and BAFTA-nominated Rosamund Pike (Gone Girl, Hostiles) and BAFTA-nominated Chris O'Dowd (Bridesmaids, 'Get Shorty'). The series is set to air on SundanceTV, sundancetv.com and Sundance Now in Q1 2019.
A series of ten by ten-minute episodes, 'State of the Union' follows Louise and Tom (Pike and O'Dowd) who meet in a pub immediately before their weekly marital therapy session. With each successive episode we piece together how their lives were, what drew them together and what has started to pull them apart. Hornby explores the complexities of marriage with his inimitable honesty and humour.
Gary Marenzi, Head of Entertainment Sales and Partnerships for Endeavor Content said: "Nick Hornby's sharp and witty script is complemented by Stephen Frears' intelligent direction and Rosamund and Chris shine in their performances as a married couple in crisis. We are delighted to be partnering with See-Saw Films once again in presenting buyers with a comedic look into the universal story of marital bliss and misery."
See-Saw Films' COO of Television, Hakan Kousetta and Head of Television, Jamie Laurenson added "We are so proud of how this incredible team came together, both in front of and behind the camera. The show is the kind of unique and innovative project we love to champion at See-Saw and having Endeavor Content on board to represent the series is the icing on the cake."
See-Saw Films produced the series for SundanceTV. Amy Jackson serves as producer for See-Saw Films with Jamie Laurenson, Hakan Kousetta, Iain Canning, Emile Sherman, Nick Hornby with Stephen Frears executive producing. Kristin Jones, EVP of international programming for AMC and SundanceTV, is the executive in charge for SundanceTV.