Click Here for More Articles on Podcasts
Sasha Pieterse to Appear as Special Guest on PRETTY LITTLE WINE MOMS Podcast
Tune in on Wednesday, Oct. 21.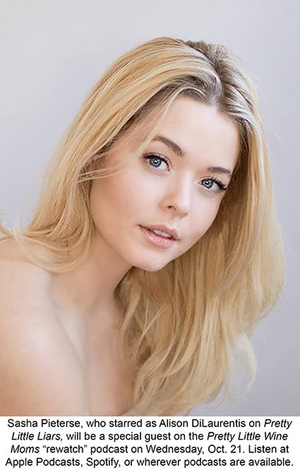 Tune in on Wednesday, Oct. 21 when co-hosts Holly Marie Combs, Lesley Fera and Nia Peeples break down Season 1, Episode 21 of fan-favorite TV series PRETTY LITTLE LIARS and interview special guest Sasha Pieterse on the Pretty Little Wine Moms "rewatch" podcast.
Get ready for behind-the-scenes stories and funny anecdotes about the episode, titled Monsters in the End, in which, among other things, Aria discovers that Ezra was once engaged; Emily finds the storage locker key in a snow globe Ali gave her;. Spencer gets trapped in the funhouse at the Founders Festival; and the girls discover that someone had been spying on them for a long time. Combs, Fera and Peeples - who played, respectively, Aria's loving, bohemian mother, Ella Montgomery; Spencer and Melissa's high-powered, caring mom, Veronica Hastings; and Emily's conservative, protective mother, Pam Fields - break down a different episode of
PRETTY LITTLE LIARS
and interview a special guest each week. Pieterse starred as Alison DiLaurentis on
PRETTY LITTLE LIARS
from 2010 - 2017. The series has recently become available for streaming on
HBO
Max.
DETAILS:

WHO:
• Co-hosts: Holly Marie Combs, Lesley Fera, Nia Peeples
• Special Guest: Sasha Pieterse
• Announcer: Ned Mochel
• Superfan Quiz Show Master: Emma Perryman
• "Secret" (originally written/sung by The Pierces) parody singer: Miranda Wilford
WHEN:
Wednesday, Oct. 21, 2020 and on demand thereafter WHERE:
prettylittlewinemoms.com/
, Apple Podcasts, or wherever podcasts are available.
Related Articles
More Hot Stories For You