Paul Guilfoyle and Lainie Kazan to Star in Upcoming Indie Film, TURNOVER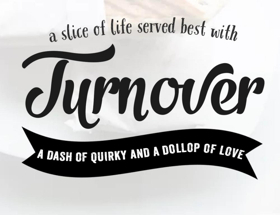 Veteran actors, Paul Guilfoyle (CSI, LA Confidential) and Lainie Kazan (My Big Fat Greek Wedding) star opposite each other in a new dramedy by award-winning writer/director/producer, Linda Palmer.
"Turnover" is the story of cafe owner, Peter who leaves his disgruntled manager, Henry, in charge of the business. Henry instead fires the staff and replaces them with an eclectic crew of misfits. Peter returns to an unrecognizable café, and eventually learns the value of camaraderie. He bonds with the new team, and only through their help is he able to save the business, his life, and ultimately find love.
Guilfoyle plays the role of "Peter" opposite Kazan who plays the role of the feisty head waitress, "Gladys." "Henry" is played by Riker Lynch (Glee and the band R5), and veteran actor, Carlos Carrasco (Blood In, Blood Out), takes on the hardened ex-criminal role of "Miguel", a savant chef with a heart of gold and the cooking chops to heal. Ms. Kazan stated, "It was the first positive project I had read in quite a while. I found it extremely inspirational and decided I must play the part of Gladys. I'm so happy to be part of this project."
The remaining 'misfits' include, Adwin Brown (Heathers, The Fosters), Blair Williamson (Scrubs, Nip Tuck) and newcomer, Madison McCarthy. They are joined by a stellar cast of all-stars including, icon, Beverly Todd (Lean On Me, Bucket List), Elina Madison (Last Call at Murray's), Kat Kramer (Child of the 70's), Julia Silverman (American Pastoral), Jamie Brewer (American Horror Story) and Karen Sharpe Kramer (Johnny Ringo) among others. Mrs. Sharpe-Kramer has come out of retirement to join her daughter in the cast. Sharpe-Kramer stated, "I had basically retired from acting, but after reading 'Turnover' I fell in love with the story, the role of Pat, and decided to come on board. I'm dedicated to being involved with projects that focus on inclusion, diversity and family values. I'm thrilled to be joining my daughter Kat Kramer as a cast member, and working with the talented team, especially Linda Palmer, and so many gifted women behind, and in front of, the camera."
The film will shoot in Long Beach, late this summer at a few select local businesses, primarily the Mediterranean favorite, Open Sesame, in Belmont Shore. "Turnover," produced by Palmer, Marvin Glover, and Rae Davis, aims to educate and break down barriers for people with disabilities. Working with Activities Recreation and Care (ARC) and National Down Syndrome Society (NDSS), the "Turnover" creative and production teams' mission is to challenge the stigmas that people with disabilities face by using entertainment to showcase their talent and bring attention to the public.
Once the film is complete, ARC and NDSS will have the opportunity to promote awareness through private screenings arranged via Tugg.com, prior to its domestic release. Turnover, LLC, the film's parent company, will then share the screening profits with these organizations. The film will be produced by Palmer's production company, Runaway Productions, and Glover's company, Sea Sand Entertainment. For more information about the film or getting involved, visit: https://fromtheheartproductions.networkforgood.com/projects/47652-feature-films-turnover.
For more information on "Turnover" please visit http://www.turnovermovie.com and follow the film socially on Facebook, Instagram, and Pinterest.