PBS Announces Season 32 of POV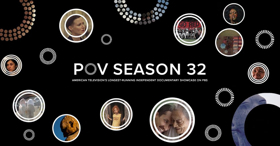 From city streets to the halls of Congress, women are reasserting their voice and power in 2019. As history unfolds, women are also documenting it. Celebrating these powerful stories in the 32nd season of American television's longest running documentary showcase on PBS and bucking the industry's stubborn gender gap, nine out of POV's 16 feature films this season are helmed by women directors, while four of the five POV Shorts premiering in its second season are directed by women.
As reported exclusively in Deadline, POV's 32nd season begins with director Nancy Schwartzman's Roll Red Roll on June 17 at 10 p.m. on PBS stations, PBS apps, as well aspov.org and amdoc.org. The season will continue with broadcast premieres airing into October, with pop-out episodes in early 2020. POV Shorts' second season will also launch with Changing Same, premiering at 10:30 p.m. after the feature film On Her Shoulders on Monday, July 22, with subsequent broadcasts throughout POV's 32nd season.
This year's stories highlight women's perspectives on issues ranging from youth-led climate activism to domestic surveillance, with nine films showcasing stories from across the world. Last season, 47 percent of directors and producers were women and one third were people of color.
Women's empowerment features prominently throughout the season. In Call Her Ganda, three Filipina activists galvanize a political uprising, pursuing justice for a slain transgender woman brutally murdered by a U.S. Marine. The Oscar-shortlisted On Her Shoulders follows Nobel-prize winner Nadia Murad, a young Yazidi survivor of genocide and sexual slavery at the hands of ISIS, as she tells her story to the world. Passionate teenage innovators, several of whom are young women scientists, take on cutting-edge solutions to stymie global climate threats in Inventing Tomorrow. Rebel heroines fight antiquated prosecution practices of sex workers in BLOWIN' UP. And in Grit, an Indonesian activist takes on a multinational drilling company that unleashed an unstoppable mudflow in her village.
As the nation reels from explosive allegations of sexual misconduct in nearly every corridor of power, Roll Red Roll dives headfirst into the conversation with an examination of the infamous sexual assault of a teenage girl by members of the Steubenville, Ohio, high school football team in 2012. As the film unearths the complex motivations of both perpetrators and bystanders in this story, director Nancy Schwartzman expands our notions of gender-based violence beyond a "women's issue."
Other stories at home showcase the evolving American landscape. In Farmsteaders a young family returns to their late grandfather's small dairy farm, only to find the challenges of family farming in an age of industrialized agriculture more overwhelming than imagined. Meanwhile, documentaries like Bisbee '17, which marks the 100th anniversary of the illegal deportation of immigrant miners in Arizona, or The Feeling of Being Watched, which uncovers a covert domestic surveillance program outside Chicago, find resonances between the country's fraught history with civil rights and today's bubbling anti-immigrant sentiments. The Gospel of Eureka, a campy look at a small Arkansas town's passion play and drag shows, challenges viewers to reexamine the relationship between religion and queer identities, celebrating pageantry all around.
As in past seasons, stories from abroad feature heavily on POV. Some examine war and conflict in regions from Ghana to Eastern Ukraine, as seen in The Rescue List and the Oscar-shortlistedThe Distant Barking of Dogs.
Other international films examine family, tradition, and history, from Palermo's whimsical beach towns in Happy Winter to a Mexican trio of eccentric brothers suddenly finding themselves guardians of their rapidly aging grandmother in América. In the Oscar-shortlisted The Silence of Others, victims of Spain's 40-year dictatorship under Francisco Franco fight back against their country's collective amnesia of the state's atrocities.
Along with this year's roster of feature documentaries, the second season of POV Shorts will launch on Monday, July 22 at 10:30 p.m. with The Changing Same, directed by Joe Brewster and Michele Stephenson. Set in the Florida Panhandle town of Marianna, one native resident runs a marathon retracing the steps of Claude Neal, who was lynched more than 80 years ago on a night buried in the town's history. In addition to The Changing Same, the rest of this year's POV Shorts confirmed slate all feature filmmakers of color: Water Warriors, Stay Close, Edgecombe, andCrisanto Street.
American television's longest-running independent documentary series, POV is the premiere showcase for independent nonfiction films accessible to the widest American audience, free on broadcast and streaming on PBS. In 2018, POV documentaries earned a News & Documentary Emmy Award and two Peabody Awards, and earlier this year received two Academy Award nominations.
"It's no surprise that women filmmakers have lots of stories to tell," said Justine Nagan, executive producer/executive director of POV/American Documentary. "Their stories are heart-thumping true crime thrillers, compassionate biopics, and poetic elegies to a long-lost way of life. They're not pigeon-holed to tell 'women's stories,' but on POV they have freedom to explore the full depth and range of the human experience. We are proud that Season 32 of POV and Season 2 of POV Shorts are a dynamic reflection of that belief. Across broadcast features and shorts, and our interactive projects, we're proud to present one of the most representative documentary strands in media-in front of and behind the camera."
Related Articles View More TV

Stories