Noticias Telemundo to Present TRUMP, THE STATE OF THE UNION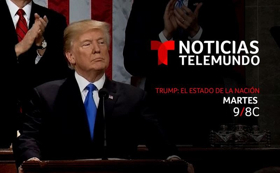 NOTICIAS TELEMUNDO announced the broadcast of "Trump, the State of the Union" on Tuesday, February 5, live from coast to coast at 9 p.m. ET/8 CT/6 PT. NOTICIAS TELEMUNDO Anchor José Díaz-Balart will lead the coverage of President Donald Trump's STATE OF THE UNION Address in the company of former Republican congressman Carlos Curbelo, former Secretary of Labor during the Obama administration, Hilda Solis, and NOTICIAS TELEMUNDO Senior Correspondent Lori Montenegro. The president's speech will be translated simultaneously into Spanish and will stream live on NoticiasTelemundo.com and Noticias Telemundo's Facebook, Youtube and Twitter accounts, as well as via the NOTICIAS TELEMUNDO mobile app. NOTICIAS TELEMUNDO will also broadcast the Democratic response in Spanish language by California Attorney General Xavier Becerra.
"Noticias Telemundo" is a leading news provider for U.S. Hispanics. Its award-winning television news broadcasts, airing from the Telemundo Center, include the daily newscast "Noticias Telemundo" with José Díaz Balart, "Noticias Telemundo Fin de Semana" with Julio Vaqueiro, "Noticias Telemundo Mediodía" with Felicidad Aveleyra, the "Un Nuevo Día" news segment with Paulina Sodi, and the Sunday current affairs show "Enfoque con José Díaz-Balart." The "Noticias Telemundo Digital Team" provides uninterrupted content to U.S. Hispanics via its growing online and mobile platforms. "Noticias Telemundo Investiga" produces investigations, reports and in-depth documentaries. "Noticias Telemundo" also airs news specials, documentaries and news events such as political debates, forums and town halls.
NBCUniversal Telemundo Enterprises is a world-class media company leading the industry in the production and distribution of high-quality Spanish-language content to U.S. Hispanics and audiences around the world. This fast-growing multiplatform portfolio is comprised of the Telemundo Network and Station Group, Telemundo Deportes, Telemundo Noticias, Telemundo Global Studios, Universo and a Digital Enterprises & Emerging Business unit. Telemundo Network features original Spanish-language entertainment, news and sports content reaching 94% of U.S. Hispanic TV households in 210 markets through 28 local stations, 51 affiliates and its national feed. Telemundo also owns WKAQ, a television station that serves viewers in Puerto Rico. Telemundo Deportes is the designated Spanish-language home of two of the world's most popular sporting events: FIFA World Cup™ through 2026 and the Summer Olympic Games through 2032. Telemundo Global Studios is the company's domestic and international scripted production unit including Telemundo Studios, Telemundo International Studios, Telemundo International, as well as all of the company's co-production partnerships. As the #1 media company reaching Hispanics and millennials online, the Digital Enterprises & Emerging Business unit distributes original content across multiple platforms, maximizing its exclusive partnerships with properties such as BuzzFeed, Vox, and Snapchat. Through Telemundo Internacional, the largest U.S.-based distributor of Spanish-language content in the world; and Universo, the fastest growing Hispanic entertainment cable network, the company reflects the diverse lifestyle, cultural experience and language of its expanding audience. NBCUniversal Telemundo
Related Articles
View More TV

Stories