Netflix Cancels ALL ABOUT THE WASHINGTONS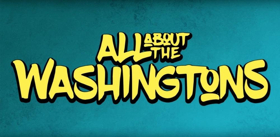 "All About the Washingtons" has been cancelled by Netflix, according to Variety.
The comedy series starred Joseph Simmons, Rev Run of Run DMC, and his real-life wife Justine Simmons playing fictionalized versions of themselves raising a family of four kids.
After Joey decides to retire from a long career as hip-hop royalty, his wife Justine takes advantage of the opportunity to pursue a career of her own now that Joey is available to focus on raising the kids and keeping the house in order. The couple's kids are portrayed by rising stars Kiana Ledé, Nathan Anderson, Leah Rose Randall and Maceo Smedley.
The first season of the series aired on August 10th. The show was originally developed by ABC Studios and Amblin Television for the ABC television network. Netflix acquired it after ABC passed.
"All About the Washingtons" executive producers were Joseph Simmons, Justine Simmons, Michael Lehman, Darryl Frank, Justin Falvey, Jeremy Bronson, and Andrew Reich.
Read the original article on Variety.