MAYANS M.C. Premieres to Best Ratings of Any New Cable Series in 2018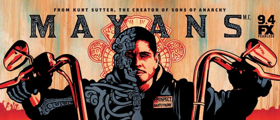 Mayans M.C., the new outlaw biker drama from FX, premiered to the best ratings of any new cable series this year in every major demographic.
On a Live+3 basis, the premiere telecast of MAYANS M.C. (Tuesday, 9/4, 10 p.m.-11:37 p.m.) delivered 2.8 million Adults 25-54, 2.5 million Adults 18-49, and 1 million Adults 18-34, making it the most-watched cable series premiere of 2018 in those key demos. The telecast was also was cable's highest-rated drama series premiere in Adults 18-49 since January 2016.
In all, the MAYANS M.C. premiere generated 6.8 million Total Viewers for its premiere telecast, three encores and digital streaming through Sunday, September 9. This figure does not yet include VOD viewing and will also continue to increase with additional delayed-viewing.
The premiere of MAYANS M.C. exceeded the premiere of SONS OF ANARCHY by +46% in Adults 18-49 (2.5 million vs. 1.7 million) and +64% in Total Viewers (4.6 million vs. 2.8 million).
The MAYANS M.C. premiere also represents FX's most-watched series premiere since the February 2016 premiere of The People v. O.J. Simpson: AMERICAN CRIME STORY in both Adults 18-49 and Total Viewers.
In addition, 19% of Mayans M.C.'s premiere audience was Hispanic -- the highest composition of any FX Networks series premiere (comparatively, 10% is the norm for all English-language Cable Scripted Series Premieres in 2018). Featuring a predominantly Hispanic cast, the premiere was also FX's second most-watched series premiere ever among Hispanic viewers in Adults 18-49 and Total Viewers, behind only The People v. O.J. Simpson: AMERICAN CRIME Story.
On the night of its premiere, MAYANS M.C. was cable's most-watched program of the night in all key Adult and Men demos as well as Total Viewers, and the most-watched program on TV, inclusive of broadcast, in Adults 18-34, Men 18-34, and Men 18-49.
Mayans M.C. returns tomorrow night (Tuesday, September 11, 2018, 10 p.m. ET/PT on FX) with episode 2 - "Escorpion/Dzec." The Mayans seek answers from a local crew as the Galindo worlds north and south of the border collide. Written by Kurt Sutter; directed by Norberto Barba.
Set in a post-Jax Teller world, Ezekiel "EZ" Reyes (JD Pardo) is fresh out of prison and a prospect in the MAYANS M.C. charter on the Cali/Mexi border. Now, EZ must carve out his new identity in a town where he was once the golden boy with the American Dream in his grasp. The series also stars Clayton Cardenas, Edward James Olmos, Sarah Bolger, Michael Irby, Carla Baratta, Antonio Jaramillo, Raoul Max Trujillo, Richard Cabral, and Danny Pino. Recurring stars include Emilio Rivera, Frankie Loyal, Joseph Lucero, Vincent Rocco Vargas, Maurice Compte, Gino Vento, Tony Plana and Ada Maris.
Mayans M.C. was co-created by Kurt Sutter and Elgin James. Norberto Barba directs the first two episodes. The series is executive produced by Sutter and Barba, with James as Co-Executive Producer. The 10-episode first season is produced by FOX 21 Television Studios and FX Productions.
ABOUT FX
FX is the flagship general entertainment basic cable channel of FX Networks, a business unit of 21st Century Fox. Launched in June of 1994, FX is carried in 89 million homes. The diverse schedule features a growing roster of critically-acclaimed and award-winning hit dramas series, including Taboo, Legion, Snowfall, Trust, Pose, MAYANS M.C. and the upcoming Mr Inbetween; the critically-acclaimed limited series American Horror Story, Fargo, AMERICAN CRIME Story, FEUD and the upcoming Untitled Fosse/Verdon series, Devs and Shogun; acclaimed hit comedy series including Atlanta, BASKETS and Better Things, and the upcoming What We Do in the Shadows; and the upcoming docuseries The Weekly with The New York Times. FX is the former home of the critically-acclaimed and award-winning hit drama series The Shield, Nip/Tuck, Rescue Me, Damages, Sons of Anarchy, Justified and The Americans. The network's library of acquired box-office hit movies is unmatched by any ad-supported television network.