Lady Gaga, Childish Gambino Among 2019 WEBBY AWARDS Nominees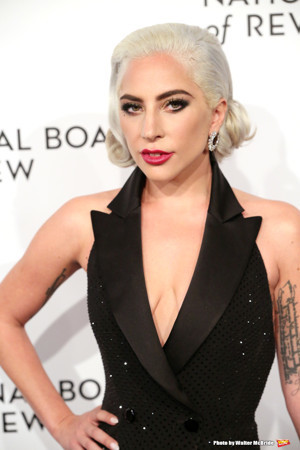 The International Academy of Digital Arts & Sciences (IADAS) today announced the Nominees for The 23rd Annual Webby Awards, which includeSerial, Spotify, Planned Parenthood, Mr Robot, Coldplay, Hulu, Patreon, Marvel Entertainment, as well as some of the year's most talked-about personalities, including Ellen,John Krasinski, Kesha, Stephen Colbert, Chance the Rapper, Kris Jenner, Stephen Curry, and Hasan Minhaj.
All Nominees are eligible to win the Internet industry's two most prestigious awards: The Webby Award, selected by the Academy, and The Webby People's Voice Award, voted on by Internet fans around the world at http://vote.webbyawards.com. Voting for The Webby People's Voice Awards is open now until Thursday, April 18, 2019, at 11:59 PM (PT).
Webby Nominees are selected by the International Academy of Digital Arts and Sciences. Members include Reddit Co-founder Alexis Ohanian, actor and activist Jesse Williams, Mozilla Chairwoman Mitchell Baker, GE CMO Linda Boff, Pod Save the People host and activist DeRay Mckesson, Instagram Co-founder Kevin Systrom, Girls Who Code Founder & CEO Reshma Saujani, Pineapple Street Media Co-founder Jenna Weiss-Berman.
"With all that's going on across the Internet it can be easy to miss the bright spots-so we are especially excited to elevate the companies and individuals who are harnessing the Internet to make great work, inspire people, and improve the world," said Claire Graves, Executive Director of The Webby Awards. "The 23rd Annual Webby Nominees are leading the charge on creating the kind of Internet we want."
This year's Webby Nominees tackled complex social issues, like gun violence, women's rights, addiction, and bullying, through campaigns like Unstoppable by Planned Parenthood, #DefyTheName with Monica Lewinsky, Everytown: Moments That Survive, "Know the truth | Rebekkah's Story | Opioids," TreatmentBox,@DailyGunDeaths, and Crush the Midterms.
In an era where more people are consuming news, entertainment, events, and friends' lives through ephemeral Stories and social content, The Webby Awards introduced a suite of new categories for excellence on social platforms. This year's nominees setting the bar for crafting compelling narratives through social media include: World Surf League, Tate Museum, Philadelphia Eagles, Ellen DeGeneres, DC Comics, National Geographic, THE DAILY SHOW with Trevor Noah, Schitt's Creek, Rolling Stone, The Washington Post, Motherly, VICE, UN Women, Smithsonian's Obama Portrait Unveiling, and Great Big Story.
Notably, this was also a record-breaking year for Podcasts, further demonstrating consumer demand for compelling storytelling-as well as a surge of creativity in the medium. Webby Nominees in Podcasts include: Still Processing, My Dad Wrote a Porno, The New Yorker Radio Hour, Longest Shortest Time, Girlboss, The Daily Show: Ears Edition, Conversations with People Who Hate Me, and Questlove Supreme. This was another huge year for Crime and Justice podcast series as well, exploring unsolved mysteries and cold cases through investigative reporting and storytelling. Popular Nominees include: Criminal, Believed, Mueller, She Wrote, Chapo: KINGPIN on Trial, Slow Burn, In The Dark, Up and Vanished, and Serial Season 3.
Additionally, The Webby Awards recognized several standouts this year in a suite of new categories honoring Voice, celebrating innovations taking place across the rapidly emerging field of smart, voice-enabled speaking platforms like Amazon Echo and Google Home. Inaugural Nominees include Westworld: The Maze, Nike Coach, Jeopardy!,Tasty by Google, and Make Me Smart by Marketplace, among others.
Media companies continue to reimagine how to showcase content and storytelling in innovative ways across Podcasts, Video, Branded Content, Social, and more. Nominees include The Washington Post, BuzzFeed, CNN, The New Yorker, The New York Times, Slate Magazine, Gizmodo, The Verge, Bloomberg, The Guardian, BBC, Complex Networks, National Geographic, and Well + Good. Media organizations in contention for Webby Media Company of the Year, presented to the media company that performs best across all Webby Awards categories, are: Disney (40), Warner Media (39), VICE Media (35), Condé Nast (21), NBC Universal (21), and Viacom (15).
The Webby Awards received 13,000 entries from 50 states and 70 countries worldwide. From the thousands of global entries submitted, fewer than 10% were selected as Nominees. The organizations earning the highest number of nominations this year include: Disney (40), Warner Media (39), VICE Media (35), Google (26), Condé Nast (21), andNBC Universal (21), and Viacom (15), BBC (12), Al Jazeera Media Network (10), Facebook (7), The Washington Post (7), Meredith Corporation (6), and Spotify (5).
Winners for The 23rd Annual Webby Awards will be announced on Tuesday, April 23, 2019, and celebrated at a star-studded Awards Show hosted by actress and comedianJenny Slate on Monday, May 13, 2019, at Cipriani Wall Street. Fans can follow the ACTION and watch show highlights, special moments, and hallmark 5-Word Speeches from the night's big Winners, at 7:00 pm ET on Monday, May 13, at #Webbys on Instagram, Twitter, and Facebook.
EY provides vote tabulation consulting for The Webby Awards. For a complete list of Nominees and to vote for the People's Voice Awards, please visithttp://vote.webbyawards.com
23rd ANNUAL WEBBY NOMINEE HIGHLIGHTS:
Best Branded Editorial Experience (Advertising, Media & PR)
AT&T You Will
The night is young. VOGUE x Estee Lauder
2018 State of CURIOSITY Report
Daniel and the Sea of Sound
Showtime's 'Escape At Dannemora' | Anatomy of a Prison Break
Best Cause-Related Campaign (Advertising, Media & PR)
Stop Traffick
Save our Species
Project Revoice
Busch x National Forest Foundation
#ExcuseMe
Best Event Activation (Advertising, Media & PR)
Blackout Track
Price on Our Lives
The World's Most Claustrophobic Cinema
Mr Robot: Ecoin
The Flip
Best Host (Podcasts)
Important, Not Important
Ear Biscuits
Conversations with People Who Hate Me
Pod Save the People
Serial Season 3
Best Overall Social Presence - Media/Entertainment (Social)
Deadpool 2 Social Media Campaign
HBO Brand Social Media
The New Yorker on Social Media
The Tonight Show Starring Jimmy Fallon
VICE
Best Use of Mobile Media (Advertising, Media & PR)
The Whopper Detour
Lufthansa "Walk-in Ads"
Threaten your spoiler friend
KFC - Get The Original ®
Nike Training
Best Web Personality/Host (Video)
Stephen Curry's '5 Minutes From Home' Series
First We Feast's Hot Ones
Adam Savage/TESTED.com
Bill Burr's Guide To Driving Etiquette
Real AMERICA WITH JORGE RAMOS - Families & Refugees Risk It All On Migrant Caravan
Best Writing (Podcasts)
Stuff You Missed in History Class
Adventures in New America
Serial Season 3
The Memory Palace Episode 125: Snakes!
Masters of Scale
Celebrity/Fan (Social)
The Ellen DeGeneres Show
Watching Oprah: The Oprah Winfrey Show and American Culture
Tha Carter III Anniversary
@ConanOBrien
Power of Young Hollywood
Comedy Shortform (Video)
The Late Show With Stephen Colbert
Mean Tweets - Avengers Edition
Tide CEO: You Gotta Stop Eating Tide Pods | CH Shorts
"How to Write a New Yorker Cartoon Caption: Child-Prodigy Edition"
The Simpsons - A Tale of Two Trumps
Entertainment (Apps, Mobile & Voice)
Ellentube
Fandango
Marvel Unlimited
Neverthink
Reelgood for iOS
Music Video (Video)
This Is America
A Star Is Born Shallows Music Video
A Tribe Called Quest - "The Space Program"
Leon Bridges - Beyond
Jorja Smith "On Your Own"
Fashion & Beauty (Video)
Lady Gaga explains why Donatella Versace is an icon
Complex's Sneaker Shopping
BEAT. Contour. Snatched. How Drag Queens Shaped the Biggest Makeup Trends
Ansel Elgort - Face to Grace Series
Gigi, Bella, Anwar, and Yolanda Hadid In the Best Looks of New York Fashion Week Spring 2019
Public Service & Activism (Apps, Mobile & Voice)
Migracam
Clean Swell
THE VOICE OF VOICES
Notable Women
Imaginary Friend Society AR
MONA The Eye
#GIVEaDAM
Haunting London
LEGO Systems - Ninjago Dragon Cam
Colonel Sanders Cat Climber
Variety (Video)
John Krasinski Breaks Down A Quiet Place's Lantern Scene | Notes on a Scene | Vanity Fair
The Star Wars Show
The Tonight Show Cover Room
V Live - Live V
CHANNEL SURFING
News & Magazines (Apps, Mobile & Voice)
The Guardian app for iOS and Android
Bloomberg Mobile App
CNET: Best Tech News & Reviews
The New Yorker Today app
Reuters News App
Health, Fitness, & Lifestyle (Apps, Mobile & Voice)
Headspace - Alexa
Sleep Sounds for Amazon Alexa
Bedtime Explorers
Nike Coach
Men's Health Minute - powered by SpokenLayer
Related Articles View More TV

Stories