KULEANA Film to be Honored By L.A. Mayor's Office at May 5th Premiere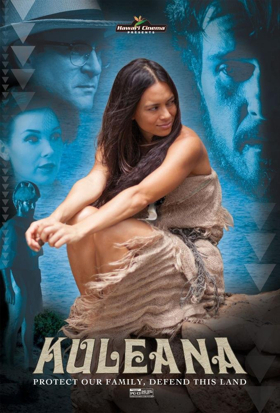 The award-winning film KULEANA enters its fourth week on Regal Cinema's island screens, including Pearl Highlands on Oahu, Maui Mall Megaplex in Kahului, and Keauhou Stadium 10 in Kona. Despite being the first Hawaii feature in almost a decade to make it to the big screen statewide, KULEANA has proven itself a mainstream competitor to other Hollywood blockbuster films currently in theaters.
"We opened head to head agains Steven Spielberg's goliath READY PLAYER ONE in ten theaters, when Marvel's BLACK PANTHER was setting global box office records and Peter Jackson's PACIFIC RIM sequel was in fifth gear," shared KULEANA writer/director Brian Kohne. "Then came more competition in a breakout comedy, BLOCKERS, and a surprise horror hit, A QUIET PLACE, which gave us a good rub. Hawaii's the Rock and his lovable CGI ape came along last Friday in RAMPAGE to also tangle with us - and that seems to be the prime factor that's diminished our screen count heading into this weekend. It's certainly not because islanders are not getting behind KULEANA; our people truly are showing up for the home team; many for repeat screenings. Next week Robert Downey Jr, the Hulk, and the spandex clad crew of the AVENGERS may serve KULEANA a final theatrical death blow - but not if Hawaii decides it truly wants a movie of its own, KULEANA, to remain available to them on screens. When it comes to box office, the people can decide the fate of a movie such as ours, so for anybody who's been talking about seeing KULEANA, now is the time to stop flapping your lips and get off the couch."
Produced entirely in Hawaii, KULEANA received a number of film festival awards all over the world in 2017, and screenings on the mainland are underway. Audiences in Sacramento, Las Vegas, Colorado, and a number of other cities have experienced the movie in their local theaters in recent weeks.
Cast and Crew are now setting their sites on Saturday, May 5th, when KULEANA will be featured as a Special Presentation in the Los Angeles Asian Pacific Film Festival for its LA Premiere. The screening will take place downtown in the Tateuchi Democracy Forum at the Japanese American National Museum, with cultural entertainment and a reception to follow. And if that were not enough, the Los Angles Mayor's Office will be presenting KULEANA with a resolution honoring the production for its authentic casting of Asians and Polynesians in featured roles. Writer/director Brian Kohne, and Actor/Executive Producer Branscombe Richmond will represent the picture.
"As a Polynesian and a Native American born in LA and living in Hawaii, I dream of the day when productions like KULEANA are no longer the exception with respect to diversity in casting and rich, cultural storytelling," adds Branscombe Richmond. "The industry evolves one picture at a time, driven by market forces, as audiences demand to experience the world they actually live in accurately represented onscreen. The fact that the office of THE MAYOR of Los Angeles recognizes and values the courage and strength of Hawaii islanders to reclaim their own narrative is at once encouraging, as it is humbling. Mahalo, ke Akua, and the proud city of Los Angeles."
In KULEANA, set in Hawaii in 1971, a disabled Vietnam vet rediscovers the Hawaiian warrior within to protect his family, defend their land, and clear his father's name. Boasting high production values in picture, performances, and music, KULEANA earned the faith of mainland theater giants Reading International (Consolidated) and Regal Entertainment Group, who in March opened the movie in 10 theaters in Hawaii and Guam. The film received an MPAA PG-13 rating, and also holds a spot on popular movie review aggregator Rotten Tomatoes.
KULEANA is the Hawaiian word for Spiritual Responsibility. The provocative new mystery/drama was written and directed by Brian Kohne, produced by Stefan Schaefer, and stars Moronai Kanekoa, Sonya Balmores (Marvel's INHUMANS), Kristina Anapau (TRUE BLOOD), Augie T, Marlene Sai, Branscombe Richmond (CHICAGO MED), and Mel Cabang. Willie K and Johnny Wilson provide an original scor; the soundtrack boasts hit songs by Joni Mitchell, Procol Harum, and Tony Orlando and Dawn, with Hawaiian classics of the era by Genoa Keawe, Lena Machado, Sunday Manoa, Sons of Hawaii, Marlene Sai, and more. Mainland residents can sign up to host/attend a screening in their city at www.hawaiicinema.com via Gathr, a technology-based Theatrical On Demand® service.