Filmmakers Discuss THE RISE OF JORDAN PETERSON On Tom Needham's SOUNDS OF FILM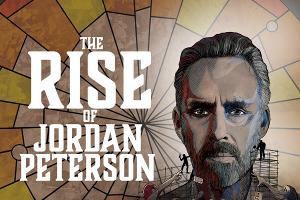 Canadian filmmakers, Patricia Marcoccia and Maziar Ghaderi, discuss their documentary, THE RISE OF JORDAN PETERSON, on Tom Needham's THE SOUNDS OF FILM this Thursday on WUSB. The show is also going to feature the music of composer Thomas Newman, who is nominated for an Academy Award this year for Best Original Score.
THE RISE OF JORDAN PETERSON provides an intimate glimpse into the life and mind of Jordan Peterson, the academic and best-selling author who captured the world's attention with his criticisms of political correctness and his life-changing philosophy on discovering personal meaning.
Referred to by many as the most influential public intellectual in the western world, University of Toronto psychology professor Jordan Peterson skyrocketed to fame after he published a controversial viral video about political correctness in 2016. Within 2 years, he sold over 3 million copies of his self-help book, 12 Rules For Life, and became simultaneously branded by some as an academic rockstar selling out theatres around the world.
THE RISE OF JORDAN PETERSON intimately traces the transformative period of Peterson's life while visiting rare moments with his family, friends and foes who share their own versions of the Jordan Peterson story.
Patricia Marcoccia is a Toronto-based director, producer, editor and cinematographer nominated for best emerging filmmaker at the Golden Sheaf Awards. Maziar Ghaderi is a multimedia artist, director and producer that works with visual media and interactive technology.
In addition, THE SOUNDS OF FILM, will be featuring the film music of Thomas Newman, who is nominated for an Oscar for his score for 1917. The show will be featuring some his memorable music from movies like FINDING NEMO, SHAWSHANK REDEMPTION, WALL-E and many others.
THE SOUNDS OF FILM is the nation's longest running film and music themed radio show. For the past 30 years, the program has delivered a popular mix of interviews and music to listeners all over Long Island, parts of Connecticut and streaming live worldwide on the internet. Past people interviewed for the show include Don McLean, Nile Rodgers, Jimmy Webb, William H. Macy, Cheech & Chong, Hal Hartley, Carter Burwell, Laurie Anderson and Billy Joel.