Click Here for More Articles on TV/Movies - Film Reviews
BWW Review: So Many Mary-Kate and Ashley Movies, So Little Time
This is my opinion but, obviously, I'm correct.
Mary-Kate and Ashley movies were a staple of my childhood. Whether it be a theatrical release or a straight-to-VHS movie (do I have to explain what a VHS is? Am I old?), I've seen every single one and still quote them on the regular.
Obviously some were better than others. They range from "wow this is iconic??!" to "what even was that plot." The twins always traveled somewhere super cool in every movie and they set serious trends in the early 2000s fashion game (e.g. Winning London, Passport to Paris, Our Lips Are Sealed).
Also, can we discuss how they pushed out at least two films a year, every year? Legends. The filmmaking style for their TV movies and straight-to-VHS films was...unique. The slightly tilted shots, the random still shots in black and white, and the montages.
The. Montages.
Montages are a vital part of MKA films. 3/4s of these movies are montages. Exploring a foreign city? Montage. Shopping spree? Montage. Skiing with an Olympic athlete? Montage. Chasing a man named Champlaine through a market in the Bahamas? Montage.
If you haven't seen an MKA movie (are you okay?), don't worry, I'm here to help. After years of research (watching them way too many times), I've determined the best five. I've included a synopsis, rough montage count (because really who knows), a "This actor was in this?! No way," and a notable quote for each. Enjoy.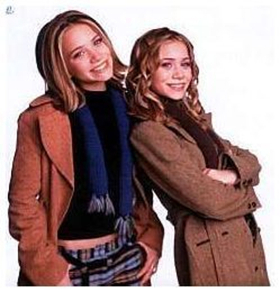 Winning London (2001)
This one has the best plot. And by "best plot" I mean it has the closest resemblance to a plot than their other straight-to-VHS movies. The twins and their Model UN team travel to London to compete in the international competition. They're supposed to represent China but uh-oh there's another team representing China so in exchange for that team's giant hotel room, MKA and their team represent England instead. Compromise!
But how will they learn about their new country in time for the Model UN competition?! To quote Ashley's character, "Guys, we're England. We're inEngland." Duh. Cue sightseeing montage. It also doesn't hurt that Mary-Kate's love interest, Jessie Spencer (pre-House, pre-Chicago Fire) is the son of a British nobleman and he's definitely got a foot on it. Quite literally, actually. Mary-Kate gets a piece of toilet paper stuck on her shoe and Jessie steps on it and says, "I've got a foot on it." (Swoon.)
As the competition progresses, Mary-Kate lets her competitive nature get in the way of her romance with Jessie Spencer because, as she lets him know, she plays to win. There's a couple more montages, a fake hostage situation, a kiss in an air duct, and then conflict resolution. But does their team win the Model UN competition? Duh!
Montage Count: at least six
Notable Quote: "I've got a foot on it."
This actor was in this?! No way: Jessie Spencer
Holiday in the Sun (2001)
You know that relatable moment when your dad picks you up from school in his private jet and takes you to the Bahamas for winter break? No? Well Mary-Kate and Ashley do. Although they initially complain that they aren't going to Hawaii. (Ok...) MKA and their family meet up with Austin Nichols (One Tree Hill) and his family in the Bahamas where drama ensues. To serve some of that drama, Megan Fox shows up. She lets the girls know right away that she's "Brianna Wallace of the Wallace Department Store Wallaces" and that this winter break she gets what she wants...and she wants Jordan (Ben Easter). Honestly, iconic.
Moving on. The twins get their own suite at the hotel and enjoy having time away from their parents and hanging out with Local Hottie, Jordan (watch out Megan Fox). Austin Nichols desperately tries to get Mary-Kate's attention throughout the movie and ends up helping another guy go on a date with her. Don't worry, they end up together and have their first moonlight cruise together.
Local Hottie Jordan has a weird old guy friend named Champlaine who is super sketchy. Turns out he's smuggling stolen artifacts and MKA, Austin Nichols, and Local Hottie Jordan end up getting mixed up in it and have to spend a night in jail. Local Hottie Jordan gets blamed for the whole thing and the other three have to chase Champlaine through a market in the form of a (way too long) montage in order to clear his name. Everything works out in the end, obviously, and then winter break is over. Fun!
Montage Count: at least 6
Notable Quote: "A sense of humor, cute."
This actor was in this?! No way: Megan Fox, Austin Nichols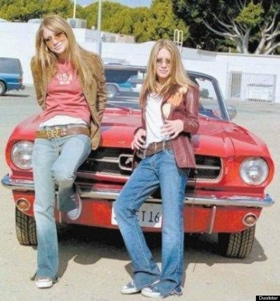 Getting There (2002)
MKA turn sweet 16 in this one. There's a montage immediately after the movie begins of the twins taking their driver license photos. Yeah. Ashley took about 20 different photos with different poses. The classic DMV experience. Now that they're licensed to drive, why not drive to Salt Late City for the 2002 Winter Olympics?!
Super fun until they stop at a restaurant like an hour into the trip and their brand new car gets stolen. They literally have to run and stand in the spot where the car was to realize it was stolen (because omg, it could've just been invisible, duh). So then they decide to fly but Mary-Kate accidently buys them tickets for San Diego instead of San Francisco (yikes) and Ashley lets everyone know that this trip is now a misadventure. They, then, decide to take a bus but somehow get separated. Mary-Kate and three of the friends make it to Vegas and have a mini vacation while Ashley and the other two get stuck in a one-horse town. Ashley deilvers an overly dramatic monologue (see below) and this random girl is like, "Chill. I'll take you to the Olympics in my dad's private jet." (I may have paraphrased.)
MKA and their friends make it Salt Lake in time for the last day of the Olympics (lol) and there's about 3 montages of them skiing. Ashley ends up skiing with her favorite Olympic skier (cue montage 4) and Mary-Kate turns down one of her guy friends by telling him they're in "the charcoal area."
They may have lost their car, wasted a lot of money, and missed the Olympics but they made a new friend who has a private jet. Win. The movie ends with another montage. Iconic.
Montage Count: at least 7
Notable Quote: All I wanted was to go to the Olympics. Is that so much to ask? I mean, I worked my butt off to get those tickets. I should have gone by myself, but no, I had to make a group trip out of it with my sister and friends. And my luck, I got stuck with a group that can do absolutely nothing right! My car got stolen, the Caddy got spiked, we flew to the wrong San, I got stuck with a $450 cab ride, we did migrant labor, our steaks got e-lemonated, we got on the wrong bus, we're 120 miles from Vegas. The Olympics are almost over, I thought I lost my sister and thankfully, some good news, found my sister!
This actor was in this?! No way: Billy Aaron Brown (he's in Holiday in the Sun and The Challenge)
When in Rome (2002)
Move over Kristen Bell & Josh Duhamel! MKA takes on Rome and the bad guys of the fashion industry in this one, naturally. They participate in a summer internship program in Rome and almost immediately get fired by their boss Mr. Tortoni (who one of them mistakenly calls "Mr. Tortellini," yikes). They get fired because they sucked at their job but don't worry they don't have to leave Rome yet. They run into the owner of the company. Mr. Hammond, who invites them to hang out at his house while he tries to get them rehired (because this happens??). There, Ashley meets Ryan, Mr. Hammonds nephew, who is vacationing in Rome. Ashley seems to think she's better than Ryan. She thinks he's a slacker with no ambition because he's on summer vacation. Because it's not like she just got fired from her unpaid summer internship or anything...
MKA gets rehired (obviously) and turns out Mr. Tortorni is trying to take over Mr. Hammond's company. But don't worry, MKA and the other interns take him down with some blurry photos and a couple of montages. All of the interns get invited to work at the New York location of the company the following summer. Neat!
Montage Count: at least 4
Notable Quote: "Sorry Mr. Tortellini."
This actor was in this?! No way: Do Mary-Kate and Ashley count?
It Takes Two (1995)
Unlike the other films on the list, this one had a theatrical release and the twins won a Kids' Choice Award for their roles. It's got a Parent Trap vibe. MKA play two identical strangers that meet randomly. Mary-Kate plays an orphan and Ashley plays a rich girl whose dad is getting married to a woman who is basically Cruella. The girls decide to switch places to experience the other's life. As they get to know the people in the other's life, the twins realize that Ashley's dad (Steve Guttenberg) and Mary-Kate's social worker (Kirstie Alley) are perfect for each other. They plot to get the two together and get rid of Cruella.
On the dad's wedding day to Cruella, Kirstie Alley barges in and tells her to "back off Barbie!" The dad and Kirstie learn about the switch and the plan to get them together. They kiss and then the four of them ride off on a carriage ride through Central Park. Romantic!
Montage Count: I'm pretty positive that there aren't any (whaaaaat!)
Notable Quote: "Back off Barbie!"
This actor was in this?! No way: Kirstie Alley
Related Articles