ABC to Premiere TASTE BUDS: CHEFSGIVING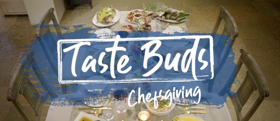 In the newest culinary offering from Intersport, the holidays take on new meaning for a group of multicultural chefs who get away from their hectic lives running restaurants, making appearances and growing their businesses. They gather together to cook, chat and chill as a small, close group for one meal in "Taste Buds: Chefsgiving," SUNDAY, NOV. 25 (4:00-5:00 p.m. EST), on The ABC Television Network.
Chefs Tu David Phu, Sheldon Simeon, Melissa King and Kwame Onwuachi each bring their own unique, soul-searching dish to the table that reminds them of the time they spent with their own families during the holidays. It is through these dishes that viewers are taken on a culinary journey from AFRICA to the Caribbean, from Vietnam to Hawaii and Los Angeles.
This is Intersport's second culinary special in 2018 on ABC. "Taste Buds: Chefsgiving" follows up on the success of "JBFA: Stories from the 2018 James Beard Awards," a look at the popular culinary awards show through the lens of a documentarian.
"Taste Buds: Chefsgiving" isn't just about the food but the communal aspects of cooking, the stories passed down and the new ones created, all captured through the eyes of documentarians. Cameras follow each chef home to where their dish finds its roots, relaying the stories inspired by these special recipes with loved ones. When dinner is finally served, there's nothing off the table: from the conversation to the critiques of the food.
About the Chefs
Tu David Phu - This Bay Area-born chef is proud of his Vietnamese heritage and uses it to inspire and influence his cooking. The 33-year-old currently lives and works in the San Francisco Bay Area. Chef Tu was named the San Francisco Chronicle's Rising Star Chef in 2017 and is currently hosting pop-up dinners all over the country for his series, "Chef's Hawker Centre."
Sheldon Simeon - Born and raised in Hawaii, the mind and cooking of this son of Filipino immigrants rarely stray from the islands. The 30-year-old shares that heritage at both of his Maui restaurants, Tin Roof and Lineage. Chef Sheldon was a James Beard Award semifinalist for Rising Star Chef in 2011 and voted Food & Wine Magazine's 2014 People's Best New Chef for the Pacific & Northwest.
Melissa King - The daughter of Chinese immigrants, this 34-year-old LA native is both a personal chef and an LGBTQ activist. Chef Melissa also hosts pop-up dinners all over the Bay Area that combine her heritage and love of local products, and is an ambassador for Whole Foods. She's been named a 40 under 40 Rising Star Chef by FSR Magazine and was named one of San Francisco's best female chefs by Thrillist.
Kwame Onwuachi - This well-traveled 28-year-old chef thinks and cooks globally. The Bronx native was inspired by the African and Jamaican backgrounds of his parents to create the cuisine for his restaurant, Kith/Kin, in Washington, D.C. Chef Kwame was named to Forbes 30 under 30 in 2017.
Since 1985, Intersport has been an award-winning innovator and leader in the creation of sports, lifestyle, culinary and entertainment-based marketing platforms. With expertise in Sponsorship
Consulting, Experiential Marketing, Hospitality, Retail Engagement, Content Marketing, Productions and Property Creation, this Chicago-based Marketing & Media Solutions Company helps its clients engage consumers with compelling ideas, content and experiences. To learn more about Intersport, visit www.intersportnet.com, like us on Facebook or follow us on Twitter and Instagram.