32nd Israel Film Festival in Los Angeles Announces Sponsor Luncheon, Honorees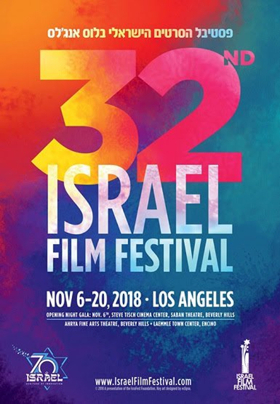 The Israel Film Festival in Los Angeles, the largest showcase of Israeli films in the U.S., is launching its 32nd edition by hosting a Sponsor Luncheon celebrating Israel's 70th anniversary and honoring Netflix's Larry Tanz, Star Wars: The Last Jedi producer Ram Bergman and philanthropist Stanley Black, it was announced by Festival Founder and Executive Director Meir Fenigstein.
Tanz, Vice President, Global Television at Netflix, has been named the 2018 IFF Achievement in Television Award recipient. Producer Bergman will receive the 2018 IFF Achievement in Film Award, and Black, the partner and founder of Black Equities, will collect the 2018 IFF Humanitarian Award.
The Sponsor Luncheon will take place on Thursday, May 31st at the Four Seasons Hotel in Beverly Hills, with special guests including Sam Grundwerg, Consul General of Israel and Adam Berkowitz from Creative Artists Agency (CAA), who is the Festival Chairman.
The 32nd Israel Film Festival will take place November 6-20 in Los Angeles. Further information on the Luncheon and the Festival may be found at www.israelfilmfestival.com, by calling 310-247-1800 or 213-948-8800 or by emailinginfo@israelfilmfestival.org.
"As we celebrate Israel's 70th anniversary, the Israel Film Festival is proud to honor three distinguished individuals who have paved the way for groundbreaking collaborations between the US and Israel film and television industries resulting in movies and series that reached millions of people worldwide. We also recognize our amazing sponsors who, thanks to their support, we can promote the best of Israeli cinema & culture in America," noted Fenigstein.
Larry Tanz is Vice President, Global Television at Netflix, the world's leading internet entertainment service. Since joining in 2014, he has commissioned, co-produced and acquired television series from all over the world, including the US, Latin America, Europe and Asia-Pacific. He also led the company's foray into Israeli programming, bringing series, such asFauda, HOSTAGES and Mossad 101 to Netflix. Prior to Netflix, Tanz served as CEO of Michael Eisner's digital studio Vuguru (now Tornante Television). Previously, he was CEO of the film and television company LivePlanet (with founders Ben Affleck, Matt Damon), with additional senior positions at AOL Time Warner and Mercer Management Consulting. He is a founding board member of Water.org and passionate about helping solve the global water and sanitation crisis.
An Israeli native, Ram Bergman moved to the States in 1991 and has since built an impressive career in Hollywood, including most recently the hit blockbuster: Star Wars: The Last Jedi. Bergman's work first caught the attention of studio heads with his 2005 indie darling Brick which starred Joseph Gordon-Levitt, directed by Rian Johnson, and premiered to rave reviews at Sundance. Johnson and Bergman proved to be a director/producer dynamic duo and the two went on to more successful collaborations including The Brothers Bloom and Looper prior to being approached by Disney. Star Wars: The Last Jedi went on to earn $1.3 billion worldwide, becoming the highest grossing film in 2017. Next, Bergman will continue his partnership with Johnson, producing Johnson's upcoming trilogy of Star Wars films.
Stanley Black, born and raised in LA, is partner and Founder of Black Equities Group, a real estate investment company. Besides his active business career and his love for collecting art, Stanley is greatly involved in charitable activities. The Stanley and Joyce Black Family Foundation was founded in 1989 by Stanley and the late Joyce Black. Both natives of Los Angeles, they believed that it was important to give back to their community. As a prime benefactor of LA ORT Technical Institute, Vista del Mar Child and Family Services, and Children's Hospital, he also supports Cedars-Sinai Medical Center, the Jewish Home for the Aging, American Friends of Hebrew University and the Jewish Federation.
For 32 years, the Festival has presented nearly 1,000 feature films, documentaries, television dramas and short films to close to one million filmgoers and brought hundreds of Israeli filmmakers to the U.S. to share their art. The Israel Film Festival is produced by IsraFest Foundation, Inc., a non-profit organization created in 1982. Among the Sponsors of the 32nd Israel Film Festival are long-time partners Millennium Films, Adelson Family Foundation, The Hollywood Reporter, Israel Film Fund, Variety, Rabinovich Foundation, Eclipse, Campbell Grobman Films, Stanley & Joyce Black Family Foundation, InSync, Screen International, Bank Leumi, The Orlando Hotel and the Consulate General of Israel, Los Angeles.
Related Articles View More TV

Stories