2018 Official Selections Announced for 3rd Imagine This Women's Int'l Film Festival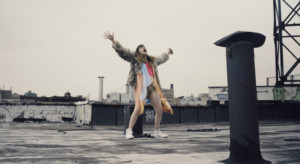 Imagine This Women's International Film Festival (ITWIFF) is pleased to announce its 2018 official selections of forty-one exceptional films and web series directed by women from around the world. ITWIFF's third annual festival will be held November 9-November 11, 2018, at the Wythe Hotel and New Women Space in Brooklyn, NY.
With a line-up of feature-length and short documentaries as well as narrative and animated feature films and web series, the third annual ITWIFF will showcase diverse styles of storytelling from both established and emerging female filmmakers. Selections for this year will take audiences around the globe featuring original works from the United States, Canada, Israel, France, Tunisia, Australia, Iran, Germany, Denmark, and Turkey. The selections highlight themes related to personal struggles amid political and social conflicts and promise to provoke thoughtful discussion. Among works selected for the festival, three will be making their world premiere, three others their international premiere, eight will make their East Coast premiere, and another five will make their New York premiere.

"According to statistics, women still lag behind men directors in the film industry," ITWIFF Co-Founder Patrice Francois said. "We are trying to change the landscape by providing a platform of diverse storytellers from all over the world that is available to everyone in order to create an inclusive environment that supports and elevates women storytellers. We do that by creating opportunities for women to take their stories to the screen."

ITWIFF is extremely grateful to its sponsors, each of which have aligned with the festival and contribute to enhancing the overall festival experience. This year's sponsors include Final Draft, the choice of professional screenwriters and filmmakers around the world; Brooklyn Gin, Brooklyn Gin is a craft spirit made in New York with fresh citrus peels and hand-cracked juniper; Seed&Spark, a new streaming service that connects audiences to original new voices in independent filmmaking via subscription streaming and crowdfunding services; Big Screen Plaza, a 30 ft. HD outdoor screen as a new nexus of city cultural life; Jungle Software, full-suite of invaluable tools for producing original content; Fat and the Moon, hand crafted herbal bod care where the message is in the medium; Cinematcher, an automated job placement, employee management, and HUMAN RESOURCES solution for the entertainment industry; and Pod Brooklyn Hotel, a minimalist hotel and living space in Williamsburg, Brooklyn, one of New York's most vibrant, trendy neighborhoods. Other sponsors of the festival include Backstage, Cutter Connections, iPitch.tv, Bai, MilkBar, SinfulColors, GoMacro, EDEN BodyWorks, Manic Panic, and Essentia.
Key events slated for this year's ITWIFF include:

• November 9: Opening night will feature two free screenings: Wander About Me (dir. Ghazaleh Soltani) and Benzine (dir. Sarra Abidi) at New Women Space (188 Woodpoint Rd., Brooklyn, NY 11211).

• November 10-11: Thirty-nine films will screen in the cellar-level of the Screening Room & Bar at the historic Wythe Hotel (80 Wythe Ave., Brooklyn, NY 11249).

• November 10: ITWIFF returns to New Women Space for an Opening Night Mixer with open bar and light fare sponsored by Brooklyn Gin. (188 Woodpoint Rd., Brooklyn, NY 11211).

• November 11: Festival sponsor Seed&Spark will host a free workshop, Crowdfunding to Build Independence, at the Wythe Hotel (80 Wythe Ave., Brooklyn, NY 11249).

• November 11: ITWIFF will host its award ceremony and after-party at the Wythe Hotel (80 Wythe Ave., Brooklyn, NY 11249).
For more information about the programming slate for ITWIFF, visit www.imaginethisprods.com.
For 2018 ITWIFF film photos, trailers media links, visit https://www.imaginethisprods.com/press.