Click Here for More Articles on OPERA - NEW YORK CITY
The Martha Cardona Opera Presents LA TRAVIATA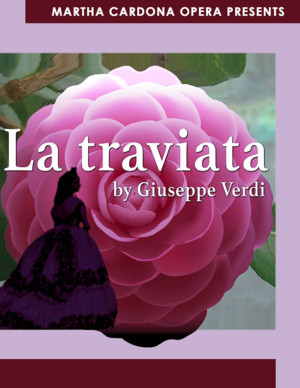 La Traviata is one of the cornerstones of the operatic repertory, filled with catchy arias and duets, many which are recognizable from popular culture. Pair this opera with The Martha Cardona Opera - whose mission is to bring this art form to those who have yet to experience a live operatic performance, as well as to bring up-and-coming stars of the opera world to those who already have a passion for opera - and you have a perfect fit!
La Traviata is the only opera to have over four thousand performances worldwide each of the last four years for a reason. The wonder of the work of La Traviata is that regardless of the period, the characters in this opera speak to a universal nature. The plight of the leading lady, Violetta Valery, makes sense regardless no matter how she's seen - whatever time period she's seen in. With a score populated with arias and duets that are fantastically famous, La Traviata is an opera that everyone can enjoy.
"The Martha Cardona Opera brings some wonderful voices that may have not been heard yet by many to the people of New York City - presenting these operas in small, intimate venues where every seat is wonderful, and offering prices the average person can afford. Merkin Hall, with its beautiful acoustics, is the perfect place to present these three rising stars to the people of New York City," said founder and president, Daniel Cardona.
Leading the cast of La Traviata is Sara Gartland, in the role of Violetta Valery. At the Des Moines Metro Opera in July, singing the title role of Dvorak's Rusalka, Gartland received rave reviews for her performance. In Opera Today, reviewer James Sohre, proclaimed: "Gartland possesses a substantial lyric soprano of great beauty and rock-solid technique that seems to know no bounds when it comes to alluring sheen, emotional connection, thrilling top notes, vibrant mid-range, floated pianissimi, and well, any and all variations thereof." He added, "...her attractive presence and committed acting were all one could wish for this complex heroine. I would wager there is no one in the world singing this role better than Sara Gartland." Miss Gartland's upcoming engagements include the roles of Violetta in La Traviata, with Arizona Opera and Musetta in La Boheme, with Dallas Opera.
Pairing with Gartland is Jonathan Tetelman, who will be singing Alfredo Germont in La Traviata. Tetelman is one of the up-and-coming, much buzzed about, tenors in the opera world today. Joel Rozen, of The New York Times, commented on Tetelman's recent appearance at the Berkshire Opera Festival in Rigoletto: "The real treat, however, came in the Duke sung by the tenor Jonathan Tetelman, memorable as a last-minute replacement for Piotr Beczala inTanglewood's concert performance of La Bohème last month. I was lucky to catch him then, and it was even better seeing him up close in a small theater: The guy's a total star." Mr. Tetelman's upcoming engagements include the roles of Rodolfo in La Boheme, with English National Opera and B.F. Pinkerton in Madama Butterfly, with Virginia Opera.
Ethan Simpson, who will perform the role of Giorgio Germont, is a fourth and final year student at the prestigious Academy of Vocal Arts in Philadelphia. In Chicago Classical Review, reviewer Lawrence A. Johnson wrote of Simpson's triumph as De Rocher in Heggie's Dead Man Walking: "Sunday's matinee was dominated by the remarkable performance of Ethan Simpson as De Rocher...singing with a strong voice and bringing searing dramatic intensity to the role." He added, "Ethan Simpson is clearly a gifted artist we will be hearing more from." Mr. Simpson will make his big screen debut as Cesar in the movie version of Ann Patchett's Bel Canto, which was recently released, and performs the role of Guglielmo in Le Villi, with Academy of Vocal Arts in November.
"There are so many things that I love about what we have put together for the people of New York City. Our conductor for this performance, Gregory Ortega, is the perfect man for the job! His sense of style and humility, while demanding excellence is exactly what is needed for this group of mostly younger voices, plus he has conducted over eighty performances of La Traviata. While many opera lovers may have heard clips of the three leads or read glowing reviews, this will be the first time they get to actually hear the voices, and in such an intimate setting with perfect acoustics. The comprimarios are all beautiful voices that need to be heard, and the chorus is comprised of former full time choristers of The Metropolitan Opera and original New York City Opera, who have collectively sang over six hundred performances of La Traviata! What glorious sounds will be heard in Merkin Hall on October 15th!", said Daniel Cardona.
The Martha Cardona Opera presents La Traviata on October 15, 2018 at 7:00 p.m. at the Merkin Concert Hall at Kaufman Music Center. Tickets start at $30, and can be purchased online at https://www.kaufmanmusiccenter.org/mch/event/martha-cardona-opera-presents-la-traviata/ or by calling (212) 501-3330.
Related Articles
More Hot Stories For You